NOOK Audio OE250 headphones make April Fool's no joke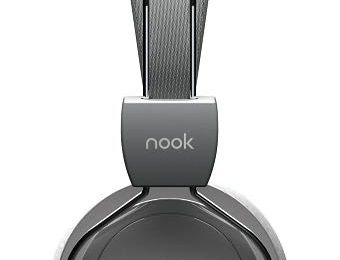 It appears that what first appeared on the first of this month in the Barnes & Noble store archives has suddenly become a whole lot more real: NOOK headphones! These phones at the moment only have an image and a code-name attached to them, but the details can be gleaned relatively easily. What we're almost certainly looking at here is the book store's first step into the music sales business in a way that's not just hard-backed CD cases and audio books.
These phones are obviously meant to reflect the NOOK lineup with their already headphone-equipped facia, and has no less than a lovely combination of comfortable material on top, plastic sides, and metal adjustment bars to solidify the experience. These phones are likely of high quality and will likely be released with a discount when purchased with a NOOK Tablet of any kind.
What do you think, NOOK fans, look like something you'd pick up if it were marketed as optimized for the NOOK tablet lineup? Will you be e-reading with audio from now on, now that Barnes & Noble wants you to listen to music at the same time? Do you expect a music store to pop up via Barnes & Noble? We'll see soon!
[via Barnes & Noble]