NomadPlus is an external battery that uses your Apple power plug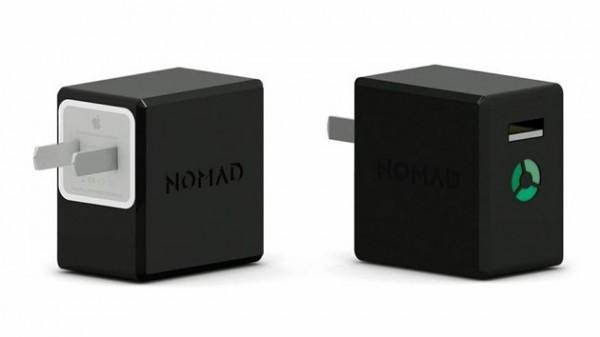 External batteries come in all shapes and sizes, few of which are as handy as the NomadPlus. This particular portable battery is aimed at Apple users, utilizing the iPhone's power plug to charge itself when you're near an outlet and your mobile when an outlet isn't available.
Calling it a "battery upgrade", Nomad aims to make toting around a portable battery as unobtrusive as possible. The NomadPlus unit slips over your Apple power plug, which can then be plugged into the wall like ordinary. When plugged in, the portable battery is charged, and will power your iPhone (or USB device) when needed.
The battery weighs a touch over 2 ounces and has a 1500mAh capacity, which will get your iPhone to about 70-percent charge (assuming it's dead) — not a fully charged battery, but quite a bit for those times you're in a pinch. The output is 5V/1A, and it is made using a high-impact polycarbonate.
For those wondering, the charger does charge the phone before it'll charge the battery, so there won't be any hassles. The device is currently available for pre-order at $39 USD, with shipping set to take place starting November 30th.
SOURCE: Engadget