Nokia Xseries & Cseries tipped, plus Ilo and Booklet devices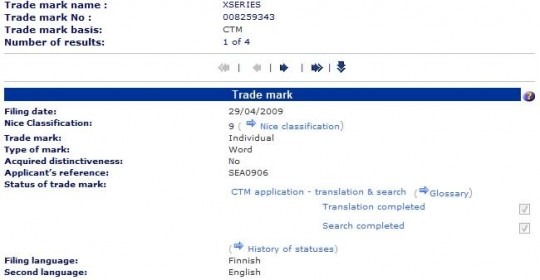 Two upcoming ranges of devices from Nokia have been tipped, after listings for the Cseries and Xseries were discovered in Finland's trademark database.  Although no official delineation of the ranges has been made, current thinking is leaning toward seeing the C-prefix as for mainstream, numbered devices, while the X-prefix might refer to Maemo 5 based devices.  There are also references to the Nokia Booklet and the "Ilo by Nokia".
The "Booklet" is described as "Computers, laptops, smart phones; accessories for computers, laptops and smart phones" in the listing, which might suggest a connection with the recent Nokia netbook rumors.  As for the "Ilo by Nokia", there's no description to be had, but the phrasing makes it sound like a premium handset.
It's possible that some or all of these products could be announced at the Nokia World conference in September.  SlashGear will be there, so we'll have all the details. 
[via SlashPhone]