Nokia X official: Android for the sub-Lumia masses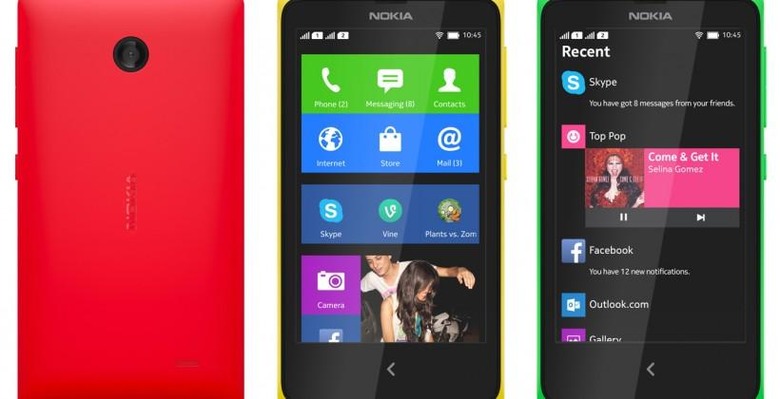 The rumors are true: Nokia has an Android phone, and it's the Nokia X. Intended to sit in-between Lumia and Asha Touch, the Nokia X is the first of a family of Android-powered handsets to be rolled out over 2014, working as an affordable onramp to Windows Phone. Delivering the sort of eye-catching, colorful style as Nokia's Lumia, only priced from just €89 ($122) pre-subsidies, the Nokia X aims to package the Finn's design heritage, Microsoft's cloud and services, and Android's apps in an affordable device for the next billion looking to upgrade to a smart device. Read on for all the details.
Inside, there's a 1GHz Qualcomm Snapdragon dualcore, 512MB of memory, and 4GB of storage, with a microSD slot for up to 32GB cards. On the front is a 4-inch 800 x 480 IPS LCD touchscreen, while a 3-megapixel fixed-focus camera is on the back; unfortunately there's no LED flash, but you do get interchangeable covers in green, black, white, yellow, cyan, or red. The Nokia X measures in at 115.5 x 63 x 10.4 mm and 128.66g, and tops out at 3G, not LTE.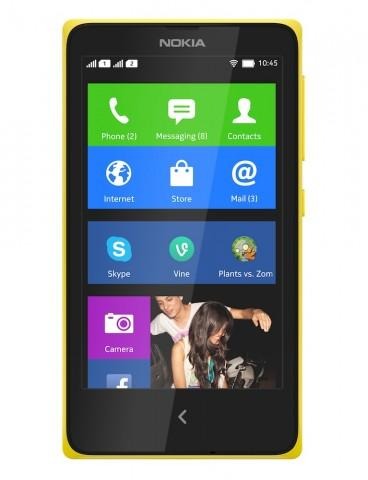 The specs may be moderate, but what makes the Nokia X interesting is the Nokia X Software Platform. The company takes pure AOSP Android 4.1.2 and then adds its own custom interface that borrows heavily from both Lumia Windows Phones and Asha Touch entry-level smartphones, the two ranges the Nokia X family sits between. Google's apps like Maps and Gmail are thrown out for their Nokia or Microsoft alternatives, so for instance there's HERE Maps for navigation, Mix Radio, Skype, Outlook, and OneDrive with the same 7GB of bundled storage Nokia's Windows Phones get.
The homescreen looks familiar too, with resizable tiles and widgets strongly reminiscent of Windows Phone's Live Tiles. There's also folder support, and a pull-down notification bar which has shortcuts for connectivity settings like WiFi and Bluetooth, as well as to toggle between the two SIM cards the Nokia X supports.
Swipe over to the left pane, however, and you find Nokia's Fastlane, brought over – and supercharged – from the Asha Touch range. A long chronological list of all the recent notifications and alerts, it also works as a task-switcher – with things like unsent message drafts flagged – between recent apps. New over Asha are the actionable notifications, so you can return calls logged in the Fastlane, reply to messages, control music playback, and more. Pull down on the list, and you see a summary of upcoming calendar entries.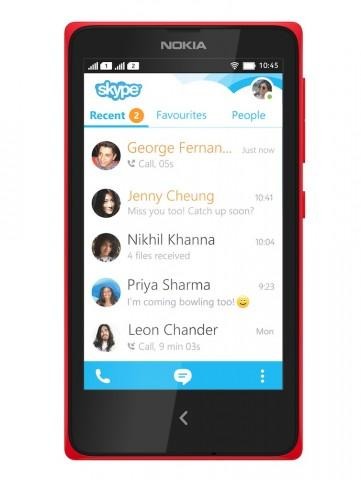 Since this isn't a device that's been officially-sanctioned by Google, there's no Play store access. Instead, Nokia loads its own Nokia Store, complete with a new section for third-party Android appstores like Amazon's, Yandex's, and others. Search for something not among Nokia's digital shelves and it'll suggest searching the other stores instead; alternatively, apps can be sideloaded, and there's a file manager installed by default.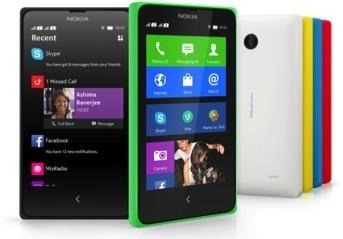 Nokia is pretty confident that you'll be able to find them in the Nokia Store, however, since it's been careful to make developing for the Nokia X and its modified Android OS as easy as possible for coders. It's compatible with the vast majority of existing Android titles already, Nokia claims, and there are only three new Nokia-specific APIs: for notifications, location, and in-app purchases.
All of the existing Android developer tools are supported, with Nokia offering a simple plugin to enable its new APIs, and they can co-exist with the Google versions so that the same app package works on both.
It's in-app purchases that Nokia is hoping will coax developers into submitting to the Nokia Store, along with the size of the potential audience for the Nokia X family. Many users in developing markets don't have credit cards to link to app store accounts, but Nokia has carrier billing agreements with more than 160 operators in over sixty markets.
There'll also be the option to release apps as "try & buy" titles, limiting the software's use by time or number of loads to give Nokia X owners a taste but then encourage them to pay with an IAP.
The Nokia X is intended to be a global device, though Nokia says availabitliy will begin in growth markets like India, China, Indonesia, Pakistan, Russia, and Poland. There are a few notable exceptions, however, and they're likely to leave some Nokia fans disappointed: Nokia has no plans to bring the Nokia X to the US, Japan, or Korea, either in its current form or any of the future members of the Android-powered family.
Sales of the Nokia X begin today, with the smartphone priced at €89 ($122) pre-tax and subsidies; as well as the OneDrive storage, Microsoft is throwing in a month of SkypeOut credit for calling landlines. We'll have a full hands-on report up very soon!