Nokia USB HSPA modem coming early 2009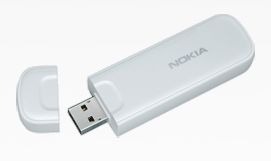 Nokia has confirmed that it plans to begin shipping a USB HSPA modem in early 2009, presumably the CS-10 Internet Stick model that it launched at the beginning of December.  According to the company's VP of hardware platform components, Nokia's experience in developing 3G chipsets and related technologies will stand them in good stead to take on segment-leader Huawei Technologies, the OEM behind many of the USB modems currently on the market.
"Leveraging these capabilities, we believe we are well-positioned to become one of the winning providers for HSPA modem solutions. The market for HSPA modems is expected to grow very rapidly during the coming years" Tapio Markki, vice president for hardware platform components, Nokia
The modem will be sold primarily through operators at subsidized prices, rather than directly to the public in an unlocked state, though since it uses a standard SIM card that possibility is available.  It's unclear whether the modem will be marketed solely in Europe or in the US as well.
The Internet Stick CS-10 uses the 850 and 2100MHz bands for 3G HSPA, with maximum download speeds of 7.2Mbps and upload speeds of 2.0Mbps.  It measures 87.4 x 26.7 x 13.4 mm and weighs 30g.