Nokia "Treasure Tag" will keep your keys in place with Bluetooth and NFC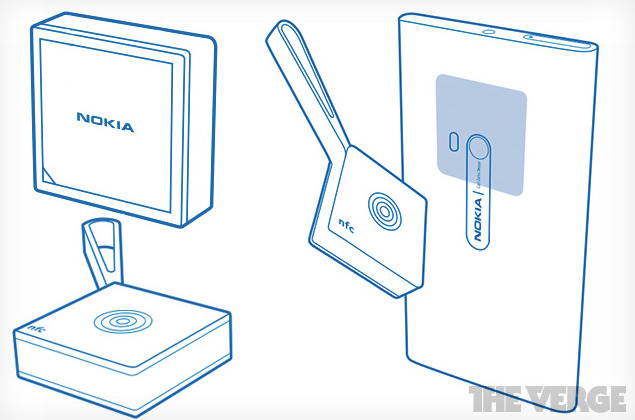 There's an accessory line in the making said to be coming from Nokia in the form of a so-called "Treasure Tag" NFC dongle. This device has been tipped to The Verge as an invention strikingly similar to what we've seen from Tile, bringing NFC-enabled miniature pieces of plastic that attach to your every beloved device and valuable. Here with Treasure Tag, Nokia will allow you to track a collection of tags in real time, using none other than Nokia Lumia devices' LiveSight app to track these tags in augmented reality.
This system will be working with a combination of Bluetooth and NFC, the actual accessories appearing in at least one form: on a loop made with materials not all that different from what we've seen from the company in their ever-expanding Lumia-friendly family. There will also be a Treasure Tag app that'll work with the tags exclusively, showing the location of each sensor on a map.
The phone you've paired the Tag with will be able to be located with a long press on the tag, the phone sending out a notification noise until it's located. The Tag will be able to be found by the phone with the Treasure Tag app.
The tags will be powered by batteries – long lasting "six months of use" batteries, that is – that will be on all the time. An NFC tag cannot send out a signal on its own without a power source, while this system will work with both Bluetooth signals – Bluetooth 4.0, in this case – and NFC to keep your machines together.
Even in Bluetooth 4.0, the range of this technology stays within 100 m (330 ft). Bluetooth 4.0's interaction with Bluetooth LE (Bluetooth Low Energy) allows the sensor technology to work with low energy, and doesn't increase its range – it lowers it to half, in fact – making this next-generation innovation have little effect on Nokia's proposed set of accessories.
So if you're leaving your keys in the car and you've walked through the park and through downtown, you might not be able to see the sensor anymore. This setup would be much more for an "I can't find my keys in the house" sort of situation.