Nokia Symbian Anna OS update: Portrait QWERTY, Ovi Maps boost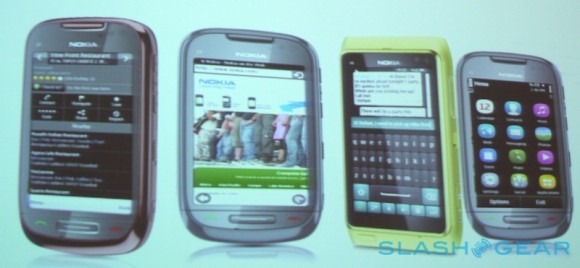 Nokia may be looking ahead to a shiny Windows Phone future, but that doesn't mean Symbian is left spinning in the wind. The company still expects to ship 150m Symbian devices this year (having sold 100m in 2010), and it still intends to invest in the platform to refine the experience for new and existing users. Today it's the debut of Symbian Anna, a significant refresh of the UI and underlying system.
The iconography has been reworked, with new, blob-like buttons, and text input has been boosted with – perhaps most noticeably – a QWERTY keyboard for portrait orientation use, and the ability to see (in a split-screen view) where you're typing rather than doing it into a secondary box. The browser has been speed-boosted and has a new UI, while Ovi Maps has a simplified and boosted search together with the addition of public transportation routing, predictive search and social networking functionality. For enterprise, there are new security and messaging enhancements.
Symbian Anna is the first of a range of updates – all expected to be named after women's names – and will be pre-loaded on Nokia's new devices. It will also be available as an update for the Nokia C7, E7, C6-01 and N8.