Nokia Sun Windows Phone device leaks, launch in November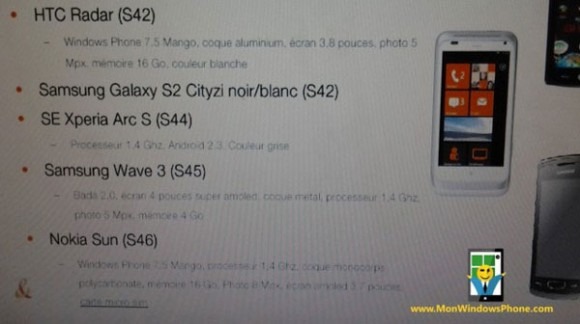 Some new details have leaked on a Nokia Windows Phone smartphone dubbed Sun (S46). The phone is said to be hitting stores between November 7 and November 13. Those dates are not long after the Nokia World Conference so all the details might be coming at the conference. We already know a lot about the smartphone thanks to the new leak.
The device codenamed Sun will run Mango and rock a 1.4GHz processor. It has a unibody shell made of polycarbonate and 16GB of onboard storage. The rear camera is an 8MP unit and the screen of the smartphone is said to be a 3.7-inch AMOLED. It is also said to use a micro SIM card. The device sounds similar to other devices we have heard of, this may end up landing as a device that has been talked about before.
We are expecting to see other devices we have already heard of land at the Nokia World 2011 conferences along with the Sun. The Sea Ray that has been rumored for a while along with the Ace and Sabre devices are being watched for at the show too.
[via WinRumors]