Nokia Smartbook tipped to follow Booklet 3G in mid-2010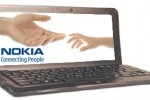 A few days ago Nokia hadn't a single netbook on their product sheet; now, according to DigiTimes' mysterious sources, they're set to enter not one but two budget ultraportable niches.  Hot on the heels of the Nokia Booklet 3G comes rumor that the Finns plan an ARM-based Smartbook in mid-2010; while there's no talk of specifications it comes as no surprise to see that everything Smartbooks are being lauded for – long battery life, multiple connectivity options – are the same things Nokia has prioritized in the Booklet 3G.
The sources of the speculation – tipped to be Taiwan-based handset manufacturers – claim that Nokia is close to settling ODM orders for the upcoming device.  Compal and Foxconn are both high in the list of likely candidates, at least for initial production; the former is already working with Nokia on manufacturing the Booklet 3G.
Smartbooks differ from netbooks in using low-power ARM-based chipsets, such as Qualcomm's 1GHz Snapdragon.  However despite the relatively low processing power, the media- and connectivity-centric nature of the chipsets mean they're capable of high-definition video playback (often with an HDMI port) together with getting online via various combinations of WiFi, Bluetooth, integrated 3G and the like.  They also boast longer battery life, though whether a Nokia Smartbook is any more likely to hit the 12hrs runtime the company has promised for the Booklet 3G remains to be seen.