Nokia "Sirius" Tablet Specs Made An Appearance In Leaked Benchmark

Ever since news of the sale of Nokia's mobile business to Microsoft, the once mobile phone giant has returned to the spotlight, with talks of the things that could have been and what could still be. This time around, we're getting bits and pieces of what could very well be Nokia's first full tablet.
Nokia has never truly ventured into the realm of tablets. It did make some amount of endeavor in creating its own special series of pocket-sized tablets it dubbed as "Internet Tablets", a line that never really took off and is now basically supplanted by large screen smartphones.
Now that Microsoft is set to hold the reigns, rumors of a Nokia tablet running Microsoft's somewhat unpopular Windows RT operating system has surfaced. Specs and renderings have been thrown around, but now we might be seeing confirmation of some of parts of those rumors surrounding the tablet, codenamed "Sirius".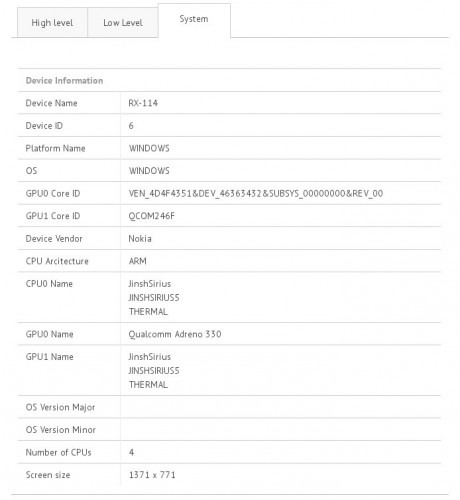 A GFX benchmark reveals the driving force behind a Nokia device identified as the RX-114, with a GPU name bearing the word "Sirius". The device sports Qualcomm's Adreno 330, which is partnered with a quad-core CPU, most probably indicating the Snapdragon 800, giving a bit of credence to earlier leaked rumors of the tablet's hardware. A Bluetooth SIG certification has also appeared, this time referring to a model RM-114, which could be the same model or a slightly different variant.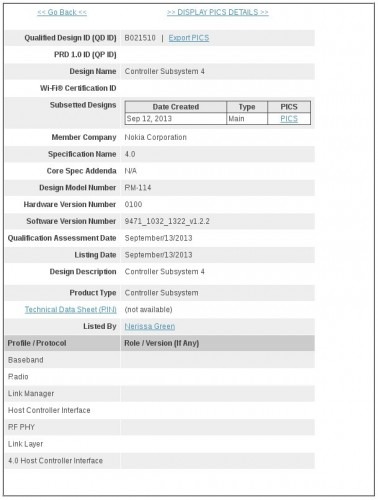 Right now, it's still too early and leaked details are still too few to form a more cohesive picture of this fabled device. The tech world and the media will definitely be keeping tabs on it, though, to see if recent business moves and new devices are signs of a sleeping giant waking up or the throes of an aging dragon.
VIA: phoneArena