Nokia shipped 500k 5800 'Tube' phones in last 30 days [Updated]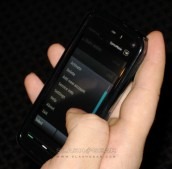 It's obviously not just Londoners who fancy some Nokia 'Tube' action: according to company CEO, Olli Pekka Kallasvuo, over half a million Nokia 5800 handsets have been shipped in the last 30 days.  Not bad at all, when you consider that the touchscreen XpressMusic handset was only available in "limited markets", and enough to make Kallasvuo believe that "the Nokia 5800 has the potential to become our highest revenue and gross margin generating device in a fairly short order."
Update: Nokia have just issued a release saying that one million 5800 handsets have now shipped.  Remember, that doesn't mean devices sold, just in circulation among consumers, stores and suppliers.
"The response to this device and our new touch use interface has been beyond our expectations.  [Nokia] will continue an aggressive roll out and marketing plan throughout the first quarter" Olli Pekka Kallasvuo, CEO, Nokia
The figures were revealed in Nokia's financial conference call this week, at which time the company revealed that their sales had dropped 19-percent and their market share reduced by 3-percent from 2007's 40-percent.  However smartphones – such as the company's Nseries and Eseries devices – actually rose in sales, suggesting a greater consumer interest in more advanced devices.
While the 5800 'Tube' falls under the XpressMusic banner rather than one of Nokia's mainstream smartphone ranges, it nonetheless marks a significant departure for the company with the debut of the touch-enabled S60 OS.  This platform will later see more attention in the shape of the Nokia N97, which is expected to be well featured at Mobile World Congress next month.