Nokia 5800 Tube UK launch prompts queue of buyers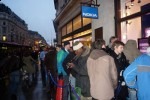 When we tested out the Nokia 5800 'Tube' XpressMusic cellphone back in December, we came away vaguely impressed but not exactly overwhelmed by the touchscreen media-centric handset.  Obviously there are plenty of UK shoppers who are prepared to feel differently, however, as queues formed outside Nokia's flagship London store this morning in anticipation of the 5800's release. 
According to first-in-line Guy Browne, from Waterloo, who had waited around seven hours for the Nokia store to open, the 5800's appeal is its combination of functionality and price.  "It's great value for money," Browne told electricpig, "it;s £100 cheaper than an iPhone."
Other shoppers had travelled up to 50 miles to make it to the store for the Nokia 5800' UK debut.  Not exactly iPhone-matching furore, perhaps – and we're yet to hear of similar queues in other UK cities – but impressive for Nokia all the same.