Nokia Q309 finances report 51% profit slash over last year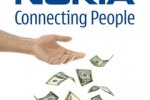 Nokia have announced their Q3 2009 financial results, and when your "Highlights" section leads with the news that overall net sales were down 20-percent year-on-year, at €9.8bn, and mobile device volumes down 8-percent year-on-year (5-percent sequentially) to 108.5m units, you know it's not been a good quarter.  In fact, operating profit for devices & services was down 51-percent from the same three-month period a year ago, plunging from €1,602m to €785m.
CEO Olli-Pekka Kallasvuo is putting a positive spin on things, painting a picture of improving demand for products constrained by "component shortages we encountered across the portfolio".  Devices & services net sales have at least risen from the previous quarter, by 5-percent (6-percent when currency fluctuations are cancelled out), though Nokia Siemens Networks net sales continue to drag overall performance down.
A small glimmer of hope comes in increasing NAVTEQ sales, perhaps highlighting the growing importance of mapping and location-based services in mobile devices.  Still, Nokia expect the mobile industry as a whole to see improved volumes in Q4 2009, and is predicting a 1-percent operating margin increase in the same period.