Nokia prepares Windows Phone press event for CES 2012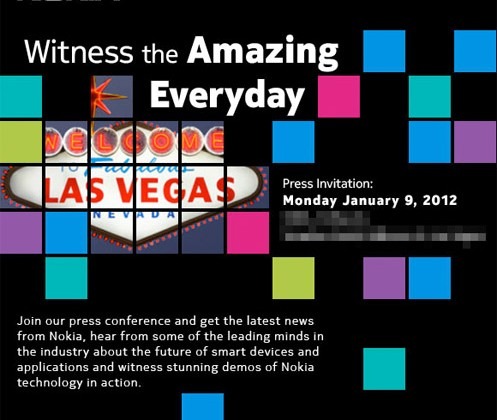 Well, Nokia has just sent out press invitations confirming its plans for an CES press event at the Las Vegas convention center. From the looks of it, the phone company is slated for a presentation the afternoon of January 9, the day before CES formally starts, and the focus is clearly going to be oriented towards something Windows Phone-esque, as the press invitation depicts the (surprise, surprise) Windows Metro UI tile theme.
On the press invitation, Nokia says to "Join our press conference and get the latest news from Nokia, hear from some of the leading minds in the industry about the future of smart devices and applications and witness stunning demos of Nokia technology in action." Really, Nokia? Can you be any more generic than that? Although we're guessing that it's going to be somehow Lumia-related, just saying.
Nokia hasn't done a huge amount lately, having been overshone by the likes of the plethora of Android devices (and I'm looking especially at you, long-awaited Galaxy Nexus) as well as the ever surging popularity of the iPhone 4/iPhone 4S variants from Apple. We'll be looking forward to what they're going to have store this year at CES.