Nokia Own Voice for Ovi Maps lets you tell yourself where to go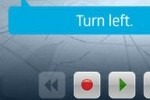 Hot on the heels of TomTom's new Star Wars voices for their PND range comes Nokia's alternative: the ability to record your own voice prompts for the Ovi Maps Navigation app available free for multiple Nokia handsets.  Fresh to the Ovi Store – as a free download, no less – Own Voice for Ovi Maps asks you to record 53 different speech prompts and then bundles them together into a custom voice pack.
Not only can you use that voice pack yourself, but they're shared on Nokia's new Own Voice site so that others can download them too (we're guessing you can keep them private as well).  It's a brilliant idea, and it might just put custom voice prompt vendors out of business.
Of course, if you're friends with James Earl Jones you could always get him to record some Nokia prompts and save the £7.95 TomTom are asking.  Alternatively, prepare for April Fools Day 2011 by recording a load of incorrect directions to install onto your friends' phones, telling them to go left when they should turn right.
[via Nokia Conversations]