Nokia Oro: Gold-plated Symbian luxury (with added thumb protection)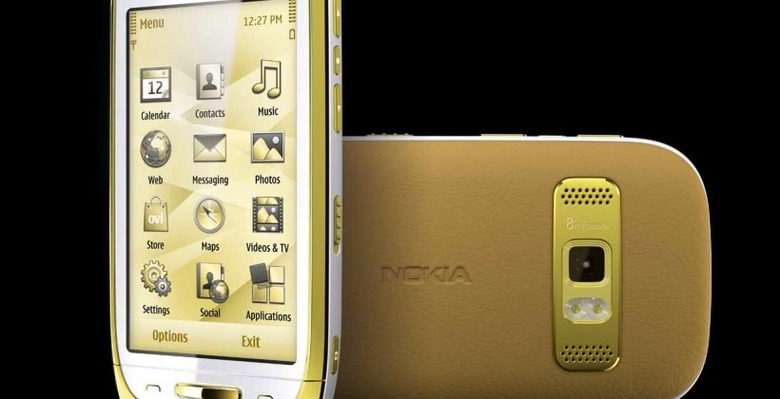 All eyes may be on Nokia's Windows Phone Mango plans, but the company still has a 150m Symbian target for 2011 and is looking to niche (and expensive) handsets in order to hit it. The new Nokia Oro takes the C7 and gives it a decidedly gauche 18-carat gold plated casing, a sapphire crystal home key, and a Caledonian leather battery cover.
According to Nokia, the Oro is targeted at the Middle East and Russia. "We have a large number of users who are looking for products with a build quality and superior materials that attest to their success and social standing" General Manager for Russia, Gabriel Speratti claims. "In some areas, possession of such premium products is the passport to being taken seriously."
Such buyers will obviously be reassured that any heavy thumbing of the home button will be met with resilience and stoicism: "That's a real sapphire crystal in the home key," materials designer Robert Lihou boasts, "which makes it eight times sturdier than glass." Nokia tells us that there are no recorded instances of C7 home buttons shattering after over-ambitious use, but we admire the Oro for going the extra mile in ensuring thumb-safety.
The Oro will go on sale in Europe, Eastern Europe, China and the Middle east in Q3, priced "upwards of €800" ($1,122).