Nokia N97 still using ARM11 not OMAP 3?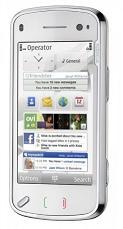 It's currently unconfirmed, but All About Symbian are reporting that the new Nokia N97 uses the same Texas Instruments ARM11 processor, with a higher clock speed, as the N95, rather than the newer TI OMAP 3 chip.  If true, this will come as a disappointment for anyone hoping the new flagship smartphone would take advantage of the OMAP 3's super-frugal architecture and speedier ARM Cortex core.
Instead, the rumors suggest that the N97 will be "as fast or faster" than the Nokia E71, with the ARM11 chip clocked higher than in previous devices.  Although that means it will likely be the quickest Nokia smartphone available, it raises questions about whether the N97 could be considered a MID replacement.
The TI OMAP 3 processor runs at 800MHz but requires just 750mW under load, while in deep sleep mode there's practically no current draw whatsoever.  That means extra-long standby times and the ability to withstand intensive use on a single charge.  Nokia are quoting up to 430hrs GSM standby (400hrs WCDMA) or 6.6hrs GSM talktime (5.3hrs WCDMA) for the N97.
[via UMPC Portal]