Nokia N97 mini review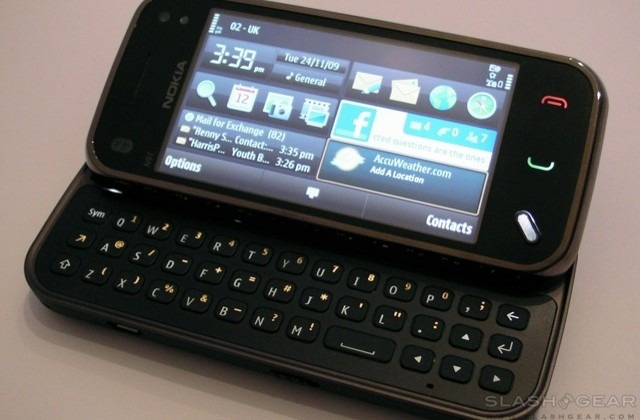 We've had two QWERTY Nokia smartphones on the SlashGear test-bench this past week, and the surprising thing is how differently the respective user experience is. Our Nokia E72 review went live earlier today; now we turn to the Nokia N97 mini, viewed by many – for better or for worse – as the Finnish company's second attempt at the N97. Second-time lucky or still well short? Check out the full SlashGear review after the cut.
To understand the N97 mini, you have to put it into context with the original N97 it's a "miniaturised" version of. The Nokia N97 practically epitomises the difficulty in balancing hype, consumer anticipation, cutting-edge hardware and delivery schedules: when it was first announced in December 2008 it promised a compelling package of the latest in smartphone technology, but by the time it hit reviewers' hands in June 2009 it proved to fall well short of expectations.
Since then Nokia have pushed out a significant new firmware release that addressed many issues with the original smartphone, and of course they've also delivered the N97 mini, a more compact version of the N97 intended to address many of its shortcomings. We pulled no punches in our N97 review, so the N97 mini has plenty of work to do in order to impress us.
Physically, as you might imagine, it's a smaller phone. The original N97 is 117.2 x 55.3 x 15.9 mm, tipping the scales at 150g, while the N97 mini is 113 x 52.5 x 14.2 mm and 138g. That means there's less room for the display – which slips from 3.5- to 3.2-inches, though sticks at 640 x 360 resolution – but it also means it's a far more pocket-friendly handset. Interestingly, there are minimal hardware concessions involved elsewhere: the N97 mini doesn't have a sliding lens cover, but it does keep the 5-megapixel autofocus camera with Carl Zeiss optics and dual-LED flash, together with a front-facing camera for video calling. The GPS and A-GPS are still present, together with ambient light, orientation and proximity sensors, and connectivity doesn't fall short either: the N97 mini is packed with quadband WCMDA 850/900/1900/2100 as well as Bluetooth 2.0+EDR, WiFi b/g, a microUSB 2.0 connection and a 3.5mm headphones socket.
Nokia N97 mini unboxing video:
[vms 1a42470269d56260243a]
You also still get the unusual form-factor, with a sliding-tilting display that is strongly spring-loaded. That reveals the redesigned keyboard, the biggest change of which is the removal of the D-pad on the left and the introduction of four regular arrow keys. We were scathing in our feedback of the N97's keyboard, criticising its lack of travel and poor finger-feedback; the N97 mini's 'board is better, with buttons that are certainly more responsive than on its bigger sibling, while the missing D-pad means there's less reaching to be done with the left thumb. Still, it's not a home-run by any stretch of the imagination and there's a sluggishness to the response that makes typing feel slower than on other hardware keyboards. Nokia have increased the size of the spacebar – which is still offset, and sits just underneath where your right thumb rests – and the function key is better placed on the far left rather than the far right.
Unfortunately you're still stuck with the one-position screen angle, which is results in plenty of hand-tilting as you try to thumb-type and see the display at the best angle. The touchscreen itself uses a resistive panel rather than the currently fashionable capacitive, but is reasonably responsive and accurate nonetheless. OS is S60 5th edition, Nokia's attempt to bring finger-friendliness to Symbian, and it remains a mixed bag. The recent firmware 2.0 update for the N97 also applies to the N97 mini, and addresses many of our original complaints, particularly in terms of the visual appeal and the introduction of "kinetic scrolling".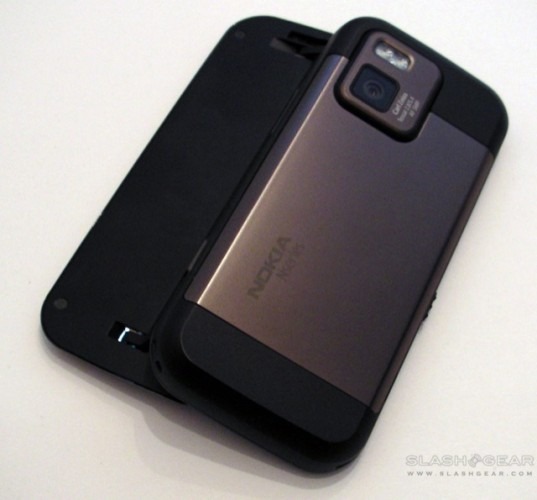 It's still not as attractive as, say, Palm's webOS or the iPhone, and many of the menus still seem to merely be bigger – i.e. finger-sized – than they were before. Lists continue to respond differently to taps depending on whereabouts in the OS you are: settings, for instance, usually respond to a single tap, whereas lists of items (such as email messages) take one tap to select and another to open. We can partly see the logic in this, but when other platforms use the more intuitive press-and-hold to deliver the same, Nokia's system begins to look unnecessarily fiddly.
The display aspect is less than ideal too, particularly when you're dealing with emails. We can't find any way to show the email list with sender and subject split across two lines, and as such you get both a sharply truncated name and very little of the subject line. It's difficult to triage your inbox without actually going into the message itself, which adds a few unwanted steps to the process. On the plus side, the N97 mini does have extensive email account support, including the basic POP and IMAP together with Mail for Exchange, and where the E72 dropped the ball in dealing with our Exchange-like Kerio Mail Server, the mini handled it with no problems whatsoever. We did experience a couple of odd connection issues, however, where the smartphone would "forget" by which method it was meant to pull in new emails; we wish Nokia would make things a little more straightforward, using whatever the active connection is (whether WiFi or 3G) without the user needing to be so prescriptive.
Like the E72, the N97 mini's browser supports full HTML with in-page Flash video, which means no separate app is required to play back YouTube content (among others). Of course there's still no multitouch zooming, and instead the N97 mini uses double-tap to zoom; unfortunately webpage text doesn't reflow accordingly, and despite the accelerometer the screen orientation doesn't flip even if you turn the phone on its side, you have to push out the keyboard in order to get a landscape view. Still, pages render pretty much as you'd expect from a desktop browser.
Firmware 2.0 also brought with it the latest version of Nokia Maps, and as with the E72 it's been a pleasing experience seeing what the rivals of Google Maps have come up with. The N97 mini includes a digital compass and locks onto a GPS signal quickly, while the app itself does a better job than its rival in presenting that data on-screen. Various map-types are provided, including a traffic overlay, and it's just as easy to pull up walking directions as it is driving (though once the trial licence of pedestrian directions runs out, you'll need to pay for the functionality). There are still no spoken guidance prompts, however, unlike the Google Maps Navigation beta for Android in the US.
Nokia have won many admirers over the past year or two with the quality of their cameras, and the N97 mini's 5-megapixel autofocus shooter is reasonable. Our general dislike of LED flashes – which we find have a very narrow "sweet spot" outside of which they either over-saturate the subject or prove hopelessly lacking in power – is tempered by decent low-light performance with the flash switched off. Give the N97 mini an outdoor shot however and you'll find acceptable results; we were also particularly impressed by the macro close-ups, with the phone automatically switching into the necessary mode to keep nearby subjects in crisp focus. The onboard 8GB of memory is less than the original N97's 32GB, but slot in a microSD card and you'll have up to 24GB to play with. You can find sample shots in the gallery below.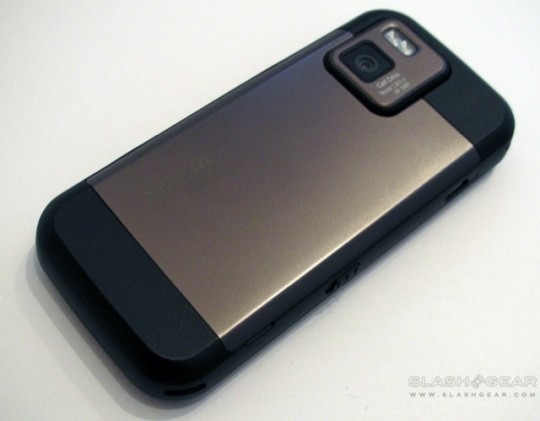 The camera will also shoot 30fps 16:9 aspect video in MPEG4 640 x 360 resolution, which turned out to be smooth and reasonably watchable. You can switch on the LED flash to act as a video light, though autofocus no longer works. Once you've shot a clip you can upload it to various media sharing sites, including Flickr and Nokia's own Ovi gallery.
As for consuming media rather than producing it, the N97 mini has the same audio app as on the E72 only with larger, finger-accomodating icons. The interface is lacking in comparison to something like the iPhone, but it's serviceable and there's a link directly to Nokia's Music Store (though not Comes With Music, which the company don't offer on this handset) for on-device downloads. As with the N97 there's an FM radio (which requires a wired headset be plugged in) but no FM transmitter; Nokia say the short-range transmitter – handy for in-car use – couldn't be squeezed into the N97 mini's reduced casing. Video playback is in a separate app, and consists of a simple folder-browsing UI for local content together with a Video Feeds browser which allows you to access streaming content.
Access to all of these apps is usually through the main menu, called up no matter where you are in the phone by pressing the single hardware button on the fascia. However, like its sibling, the N97 mini's homescreen is made up of six rectangular widget panels which can be rearranged and edited. Among the options are standard shortcut bars – each offering room for four icons linking to your commonly-accessed apps – as well as frequent contact shortcuts, an AccuWeather forecast widget, Mail for Exchange widget and a clock with links to the alarm settings and calendar. There's also a Facebook widget which ties into Nokia's somewhat sluggish Facebook app. This shows galleries, wall posts and offers one-tap access to the camera and on-device gallery so as to make uploading shots easier, but is tardy in its responsiveness – especially when updating the Facebook wall – compared to similar apps on rival platforms.
Phone performance was strong, with the N97 mini tenacious with a signal. We experienced no dropped calls in all of our testing, and both parties reported clear and crackle-free audio. Battery life has proven slightly better than what you'd expect from a current-gen smartphone, capable of going two days with regular use (and judicious use of the peak/off-peak push email settings). Nokia quote up to 430 minutes of GSM talktime (240 minutes of WCDMA) or up to 320 hours of GSM standby (310 hours of WCDMA).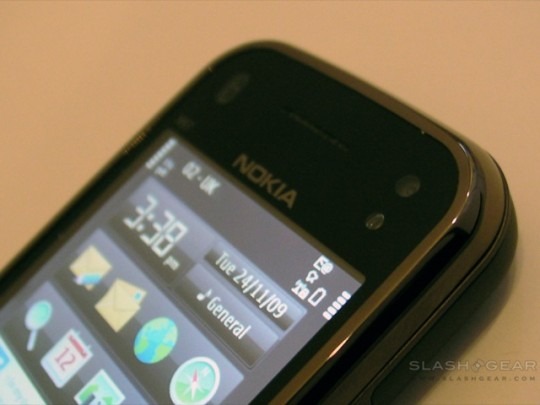 Build quality is better than the N97, with a sturdy case and touches of metal in the screen fascia and battery cover; we're also quiet fans of the "cherry black" finish (though you can also get the N97 mini in "garnet"). Less impressive is the flex in the plastic screen surround up above the earpiece, though to be fair that's our only real point of concern about the N97 mini's construction.
Overall, then, we feel a whole lot warmer toward the Nokia N97 mini than we did toward the original N97. Its slimmed-down design and improved software have taken much of the sting out of ownership, and the compromises – the absence of an FM transmitter and the smaller onboard storage – are minor in comparison to the far better keyboard and sturdier build. Still, none of what it offers is quite a home-run in the smartphone game right now; the OS is improved but still feels drab and mildly clunky in comparison to rival platforms, and the QWERTY 'board is a long way off the best we've played with in recent months.
Bizarrely, if they've beaten anything, Nokia have killed off enthusiasm for the N97; the two handsets will go on sale alongside each other, and the UK store even has the N97 mini at £429 and the original at £449. Having lived with the N97 mini we're not sure why anybody would plump for the original, frankly. As for the mini itself, we must admit to being more enthusiastic about the Maemo OS and its potential than we are about this current device. Nokia obviously have some good ideas left in them, but the N97 mini feels like what the original N97 should have been, rather than a new product in its own right.