Nokia N97 & iPhone 3G square-up in live pics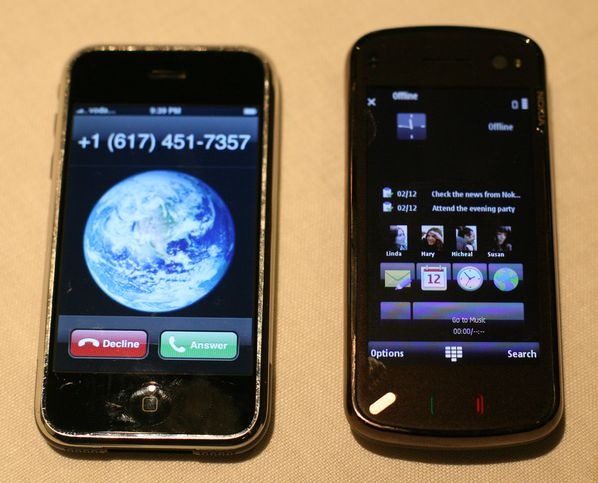 Nokia's N97 has only just been announced, and already it's had it's first photoshoot with the iPhone 3G.  Robert Scoble is at the Nokia World event and bought his Apple smartphone with him, the device that the new N97 will inevitably be compared to.  Meanwhile, PhoneScoop's Eric Zeman has already posted his first impressions of the handset; more live photos of the N97 after the cut.
As you can see from the gallery below, the N97 is thicker than the iPhone 3G; it's also slightly longer, but narrower.  The extra thickness is from the slide-out keyboard; we've seen a similar tilting design on the HTC Kaiser.
According to PhoneScoop, the keyboard is better than that of the T-Mobile G1 and the Pantech Duo 2, with good travel and thumb-feedback.  Meanwhile the display was less successful, with haptics only working half of the time; that's likely because Nokia only have very early pre-production hardware to demonstrate.  The software is another evolution of S60 to reduce menu presses, while screen quality is "beautiful".
These N97 demo units are apparently the first time Nokia has combined the N97 hardware and software, and were hand-made.  We'll have to wait until closer to launch to find out exactly how the real smartphone performs.