Nokia N87 12MP tipped to replace N86 [Video]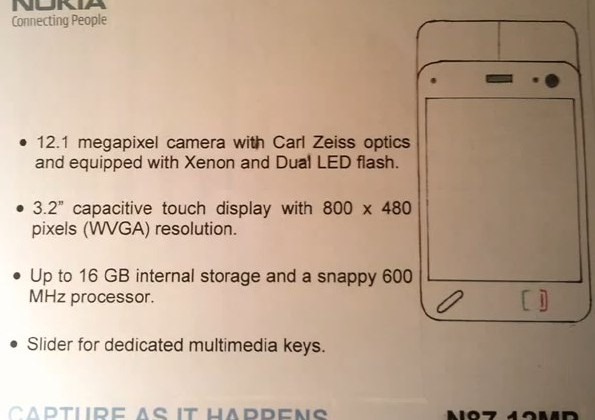 We'd suggest shoring yourself up with salt right now, given how tenuous this 
claiming to have knowledge of an upcoming Nokia smartphone is.  Tipped to be the Nokia N87 12MP, the follow-up to the hugely popular
, the handset is said to have a 12.1-megapixel camera along with a 3.2-inch capacitive touchscreen.
That would make it the second Nokia device – after the
- to use the touchscreen technology, rather than the more common resistive panels.  The screen will apparently run at 800 x 480 resolution, while under the hood there'll be "up to 16GB" of internal storage – we're guessing they mean a microSD card slot – and a 600MHz CPU.  Like other Nokia handsets, the phone will have a slide-out section with multimedia keys.
Of course, it's the optics that most N86 8MP addicts will be interested in, and the N87 12MP is tipped to have a Carl Zeiss lens and both Xenon and dual-LED flashes.  We're very sceptical, we have to say; though it does make sense that Nokia would have a replacement for the N86 8MP in the works, we're not convinced that this is it.
[
PhoneArena]