Nokia N85 and N79 shipping in the US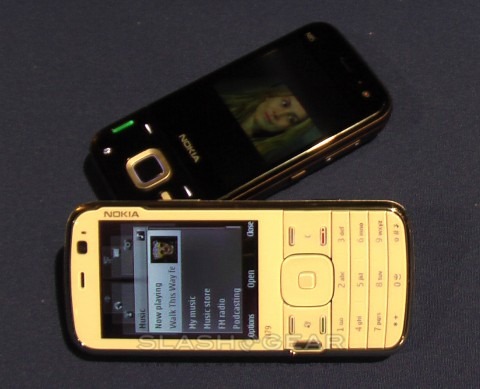 Nokia have officially begun shipping the N85 and N79 in the US, each unlocked and with a 5-megapixel camera and integrated GPS.  Both handsets support US-spec HSDPA, using the 850 and 1900 MHz bands, while the N85 adds European 2100MHz support.  Nokia's N-Gage mobile gaming platform is also enabled.
The Nokia N85 has a 2.6-inch OLED display, while the Nokia N79 has a smaller 2.4-inch display using a more traditional LCD panel.  Each handset has a microSD slot – an 8GB card is included with the N85, a 4GB card with the N79 – together with WiFi, Bluetooth and an FM transmitter.
The Nokia N85 has an MRSP of $539, while the Nokia N79 has an MRSP of $439.  Check out our hands-on report with the two cellphones here.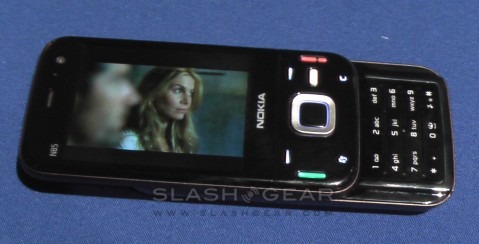 Vincent's note: review units of the Nokia N85 and N79 are coming in soon, so stay tune for SlashGear's review.
Press Release:
Give the gift of beauty and entertainment for the holidays – the Nokia N85 and Nokia N79

Much-anticipated multimedia devices available now in the United States

New York, NY, USA – Nokia today announced that sales of the Nokia N85 and Nokia N79 have started in the United States – just in time to inject a dose of entertainment and color into your holiday season. The Nokia N85 delivers a striking fusion of design and entertainment that bursts through its stunning 2.6" OLED display, while the Nokia N79 is bound to turn heads with its three seasonally colored Xpress-on smart covers in, red, white and brown, to automatically customize the device's theme to match your holiday moods.

Both devices will now be available unlocked through retail channels in the United States, including the Nokia Flagship stores in New York and Chicago, on www.nokiausa.com and from a number of independent retailers and e-tailers.

"We're excited to have these two multimedia devices available in the United States now – and in time for the holidays," said Alessandro Lamanna, Vice President of Sales, Retail, Nokia Americas. "The Nokia N85 provides a great mobile gaming experience, lets you capture high quality videos, browse the web, shoot amazing high resolution pictures and enjoy a great music experience and everything else that consumers have come to enjoy with Nokia Nseries. Behind the slender exterior of the Nokia N79 is a wealth of wizardry to make discovering and sharing experiences with friends a real pleasure, any time of the year. Both devices even come with a three-month license for integrated pedestrian and voice-guided navigation with Nokia Maps. "

Stunning shots

The bright OLED screen on the Nokia N85 is an ideal backdrop to view those holiday pictures. Get snap-happy with the Nokia N85 and Nokia N79 – both have 5 megapixel cameras with Carl Zeiss optics, so you can enjoy high quality images in richly defined colors, taken with a bright dual LED flash, or video clips at 30 frames per second. Images can be geotagged to record the capture location and shared online on sites like Share on Ovi or Flickr.

The fun doesn't stop there – playing N-Gage games is a pleasure with fast connectivity and bright screens. Break the boundaries of gameplay by challenging like-minded players from across the globe to rescue the princess with Reset Generation or net the catch of the day in Hooked on Creatures of the Deep. Try out any of a variety of games with the free activation voucher on either device.

Turn up the volume

The Nokia N85 and Nokia N79 are ideal companions for music enthusiasts. Both devices have ample storage space included inbox for your favorite tunes – an 8GB microSD card on the Nokia N85 and a 4GB microSD card on the Nokia N79.

Great for getting the party started, both devices also have a built-in FM transmitter so you can enjoy tunes wirelessly through a car or home stereo – and in 3D sound.

Find it

The Nokia N85 and Nokia N79 come with Nokia Maps and an integrated three-month license for pedestrian and voice-guided navigation. Other highlights of the Nokia Maps include free maps for more than 200 countries, satellite view and close to 15 million points of interest.

The Nokia N85 and Nokia N79 can be further enhanced with a range of customizable content available from the pre-loaded Nokia Download!.

Both the Nokia N85 and Nokia N79 are compatible with high-speed 3G HSDPA networks in the US (850 and 1900 MHz). The Nokia N85 also supports European 3G networks (2100 MHz) – perfect for a holiday break abroad. The Nokia N85 is available for an estimated retail price of $539 and the Nokia N79 for $439.

About Nokia Nseries

Nokia Nseries is a range of high performance multimedia computers that delivers unparalleled mobile multimedia experiences by combining the latest technologies with stylish design and ease of use. With Nokia Nseries products, consumers can use a single device to enjoy entertainment, access information and to capture and share pictures and videos, on the go at any time. www.nseries.com