Nokia had the usual array of handsets out at CTIA this week, but of particular interest were two new N-series devices announced last month.  The N79 and N85 are a candybar and slider respectively, and both feature a 5-megapixel camera with Carl Zeiss optics and a dual-LED flash, HSDPA and WiFi.
Each handset can geo-tag photos via A-GPS, while the N85 is also capable of capturing DVD quality video at 30fps.  The slider also has ten pre-loaded N-Gage titles, and special gaming keys that light up when the handset is held horizontally.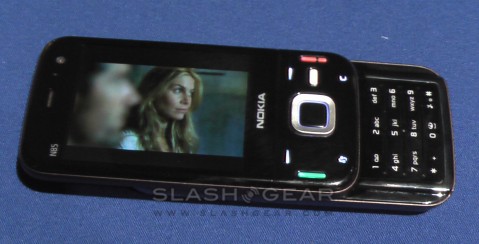 The N85 has a 2.6-inch OLED display, comes with an 8GB microSD card, and has both Bluetooth A2DP and a buit-in FM transmitter.  Meanwhile the N79 comes with a 4GB card and access to navigation and more than 15-million Points of Interest courtesy of a three-month licence to Nokia Maps. 
In our hands-on, both handsets felt sturdy and had the usual responsive Nokia keypad.  The N85 seems a reasonable mobile gaming device, though the screen is perhaps a little small for it to look to replace a PSP or DS; as an occasional distraction, however, it works fine.  The white N79 was a surprising color success, with the high-quality plastics giving a more expensive feel than the press photos might have suggested; five different exchangeable covers are available, in red, blue, brown, white and green.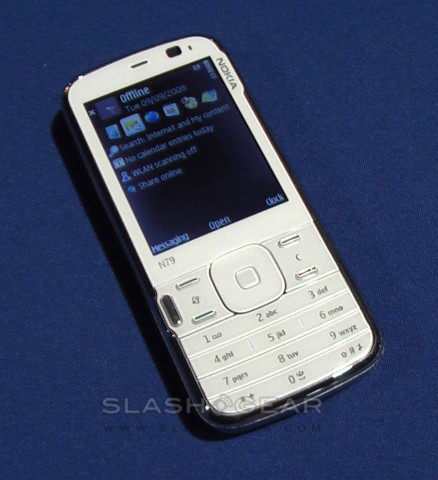 Both handsets will ship in October 2008, priced at around €350 ($488) for the N79 and €450 ($627) for the N85.