Nokia N810 Turned Into Bluetooth Keyboard & Mouse Remote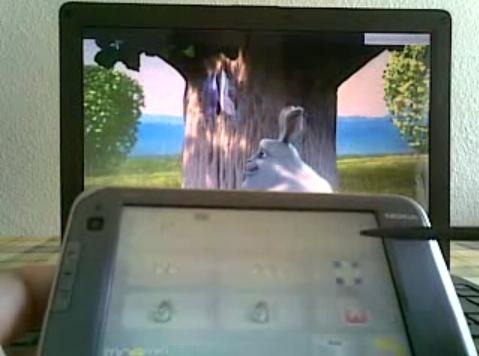 If you've built a media PC and are now looking for a reasonable wireless keyboard and mouse, how about using the Nokia N800 or N810 Internet Tablet instead?  BlueMaemo is a port of ReMoko for the Linux-based Maemo OS used on the touchscreen devices, and basically offers the Internet Tablet as a combined keyboard and mouse device via the Bluetooth HID profile.
Check out the BlueMaemo demo video after the cut
That means you can wirelessly connect the Tablet and use the touchscreen as a trackpad, as well as call up various menu options including video playback control.  If you have a keyboard-enabled N810 then you can use that for input; not something to type the next great American novel on, perhaps, but enough for URLs and maybe some instant-messaging.
It's not limited to HTPCs, though; BlueMaemo has been tested with Linux BlueZ, Windows XP (SP2 and SP3), Windows XP Media Center Edition and Windows Vista.  Brighthand suggest it could be a good way of adding keyboard functionality to a UMPC, but I don't know that many people who carry both a UMPC and a Nokia N810 around with them. 
[via jkontherun]