Nokia N8: 32GB version tipped, removable battery & QWERTY speculation

Nokia's N8 certainly seems to be creating some hype for the Finnish company, and we can't imagine that's going down too badly at Nokia HQ.  Currently being picked over is the N8's ability to hook up to an external hard drive and access its files – something that we actually knew from the spec sheet back on the day of the N8's launch, since that detailed the USB on-the-go support  - together with rumors that a 32GB N8 is planned together with the 16GB Nokia announced.
SaudiMac got a chance to play with a prototype N8 (and what looks like retail or close-to-retail packaging) over the weekend, and one of their shots – which appears to have been since taken down – apparently showed 32GB printed on the box.  Meanwhile arch-insider Eldar Murtazin tweeted earlier about there being both an N8-16 and an N8-32, rather than just the single version we've heard of so far.
Meanwhile FinestFones have been digging through the N8's user manual (as posted to the FCC [pdf link]) to check out the USB Host support, and the phone will indeed come with a microUSB to USB 2.0 port adapter – just like the N900 does – allowing you to plug in external drives or memory card readers.  According to the guide, plugging in a drive will automatically load the File Manager app; it's not clear whether it'll also work with external keyboards for easier text entry.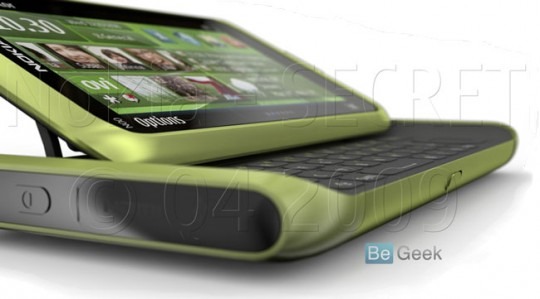 Speaking of text entry, Engadget are ruminating on the "Nokia N98" render that leaked back in February 2010, and which we now can see bears a striking resemblance to the N8's physical design.  Does that mean that – as you'd expect if Nokia are at all clever about this – that there's a full QWERTY version of the N8 somewhere in the works; perhaps even what will eventually be branded the Nokia N9?
Back down to earth, and The Nokia Blog point us to a workaround of one of the N8's potentially more frustrating features: the non-user-replaceable battery.  Turns out, going by some prototype photos – the fixed battery actually is pretty accessible, as long as you have a suitable screwdriver.  Remove two screws and the end-cap pops off, allowing you to switch out the standard Nokia BL-4D battery for a new one.