Nokia Music relaunches as Nokia MixRadio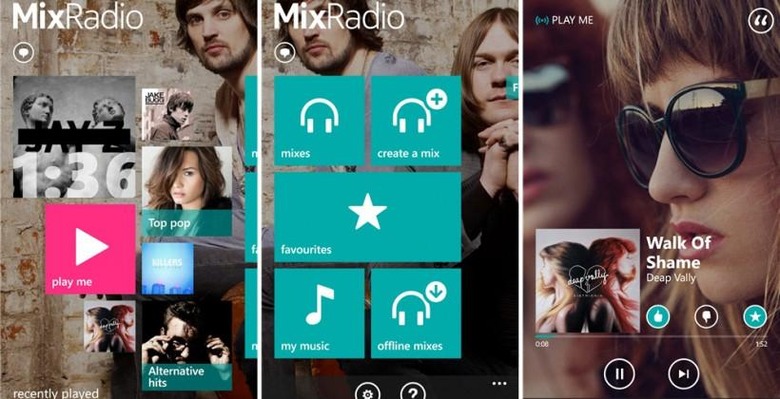 Nokia has relaunched its streaming music service as Nokia MixRadio, dropping the Nokia Music name and updating the Windows Phone app in the process. The reworked software, available only for Nokia's own Lumia Windows Phones, pushes the dynamic Mix playlists to the fore, which offer subscription-free themed tracklistings that can be streamed live over a data connection or cached for offline playback.
Nokia uses local playlist experts in each region to customize the mixes depending on what's popular in each location, and there are around 18m tracks that they can choose from. However, it's also possible to create a personal mix, using Play Me, which first builds a music profile based on the user's tastes and preferences, and then selects tracks to suit.
Like on a TiVo remote, there are thumbs up/thumbs down buttons to rate each track the system selects, with the feedback helping shape what songs users hear in future. The resulting mixes can be shared over Facebook and Twitter with other Lumia owners, or directly via email or text message.
Although relatively poorly known outside of Nokia fans, Nokia MixRadio is one of the most appealing extras the company offers to Lumia users. Unlike custom streaming radio services like Pandora, there are no subscription fees or adverts interspersed in-between tracks; however, Nokia does offer a $3.99 monthly upgrade for unlimited downloads and other extras.
The new Nokia MixRadio app is available in the Windows Phone Store now, as a free download for Lumia users. If you've already got Nokia Music on your device, it should simply upgrade to the new version.
VIA WPCentral