Nokia Lumia 929 photo and video leaked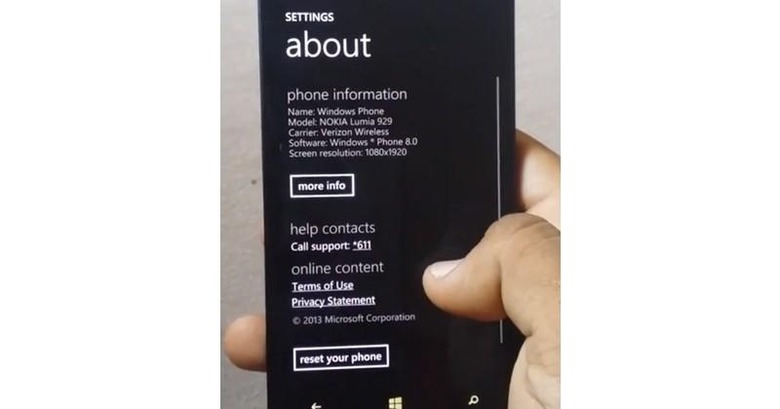 Update: The YouTube video was removed by the user, moments after we published this post; we have therefore removed the embedded player for now. Anybody care to leak another version?Update: Thanks to an anonymous commenter, we have another version of the video for you in-line.A photo and video of the yet-to-be-released Nokia Lumia 929 has been leaked by WPCentral forum member Falorin. The Windows Phone device appears scuffed and marked up, indicating Falorin has had it in his possession and been using it for some time now. The leak is a welcome sight for Lumia fans who were disappointed to find it did not appear as expected at Nokia World 2013 in Abu Dhabi last week.
The photo shows the About screen for the phone, which teases with just a few details about the phone itself. It confirms that this is indeed a Windows Phone of the Lumia 929 variety, and it is running Windows Phone 8.0. It shows that the device is running on the Verizon Wireless (4G LTE) network, and that the screen is 1080 X 1920 pixels.
The video shows all six sides of the phone. Falorin (or whose hand appears in the video) rotates through the ports and removes the nano-SIM card tray. Along the way, we get glimpses of the Windows Phone 8.0 OS running on the device, including the system applications, homescreen, and games list. Nothing unusual there.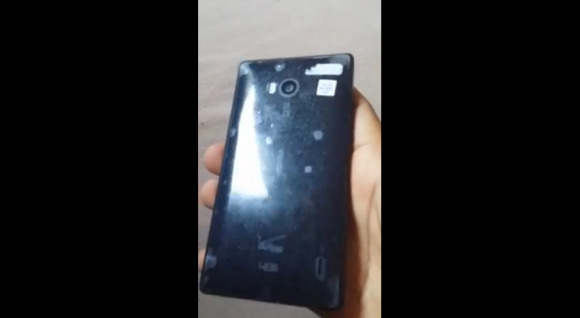 The rumor, conjecture, and cloak-and-dagger machine has the Lumia 929 serving as sort of a smaller Lumia 1520. It will likely have a 20-megapixel PureView camera and a Snapdragon 800 chip, possibly quad-core. There will be no microSD card slot, but the machine will come in 32GB and 64GB models. It will be at minimum 5 inches tall.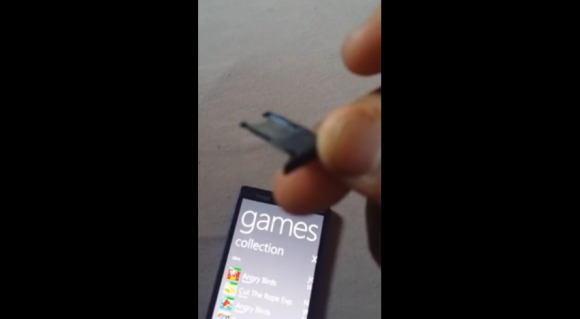 Falorin claims the 929 will launch "around Thanksgiving," perhaps just in time for Black Friday.
SOURCE: PhoneDog