Nokia Lumia 920 sells out in Germany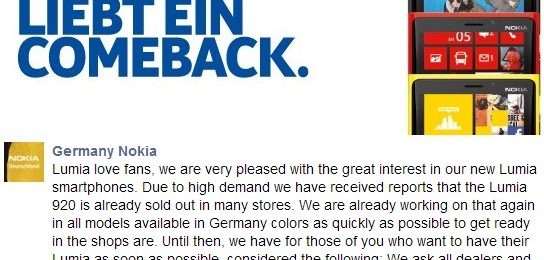 It's time to get serious about Windows Phone 8 in Deutschland it would seem as the folks at Germany Nokia have made it clear that stores across the country have sold out of the Lumia 920. This report is joined by an on-ground report by a reporter from WMPowersuser in Germany who made a mad dash across his city to find a 920 after a bit of a repair issue. Amazon and mobile device sales website GetGoods also sold out earlier this week in addition to massive amounts of carriers across the country – if not every single one of them Deutsch-wide.
Nokia's acknowledgement of the issue marks the first time the company has had a sell-out situation in Germany and may be a sign of global interest for the device as well. Judging response to our own coverage of the device, including our full Nokia Lumia 920 review, Nokia may have a winner on their hands after several rather tough fiscal quarters. This could also be a sign of interest growing for Windows Phone 8 – but we'll stay reserved on that situation until actual sales numbers are announced.
The Nokia Lumia 920 took the Windows Phone 8 launch and ran with it, Microsoft agreeing with Nokia to back the device (and the rest of the Lumia lineup) as the hero line for the mobile operating system. Along with the launch of Windows 8 and Windows RT, Microsoft's interest it making sure their entire ecosystem thrives presents a unique opportunity for Nokia – and the rest of the manufacturers joining in on the party.
Have a peek at our coverage of the Nokia Lumia 920 in the timeline below and keep tuned to SlashGear's Microsoft portal as Windows 8's entire extended environment continues to grow. Let us know if you're going to be picking up a Nokia Luma 920 – or one of the devices Nokia's released that are rather similar to it – sooner than later!