Nokia Lumia 900 hits UK in June says retailer, sans LTE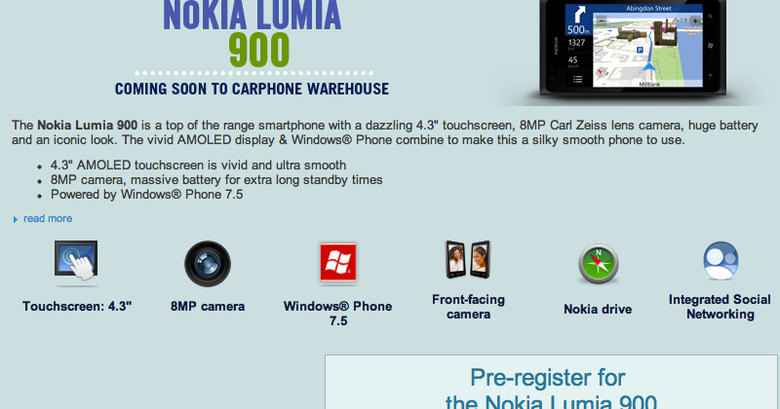 UK retailer Carphone Warehouse has yanked a pre-registration page for the launch of the
, indicating the 4.3-inch Windows Phone will go on sale in non-LTE form come June 2012. Beyond the lack of LTE, the Lumia 900 details - previously found
 but now only a memory in
 - were identical to the AT&T model announced earlier this month, with an 8-megapixel camera along with a front-facing camera for video calls.
Although the UK was among the countries to get the original Nokia Lumia, the
, first, neither it nor the
 include a front-facing camera. Right now little in Windows Phone actually makes use of that secondary camera, but that's expected to change as Microsoft readies a version of
 for the platform.
Otherwise, it's the familiar polycarbonate unibody casing and a ClearBlack AMOLED display, still running at WVGA resolution but using an RGB matrix panel for improved visuals. It seems Carphone Warehouse jumped the gun in announcing the smartphone, which so far Nokia is yet to date for a European release.
AT&T Nokia Lumia 900 hands-on:
More information on the AT&T Lumia 900 in
 earlier this month.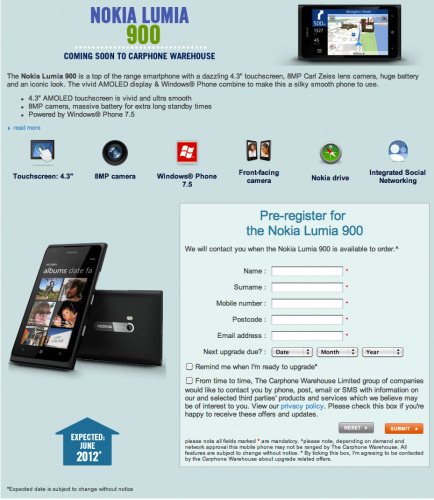 [Thanks to everyone who sent this in!]