Nokia Lumia 810 Review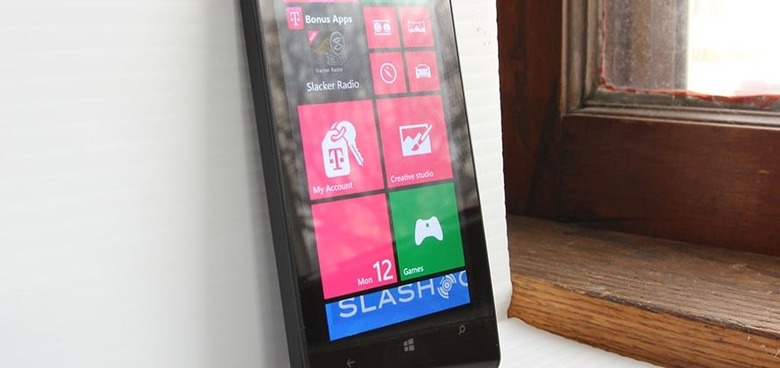 With the Nokia Lumia 810 comes T-Mobile's chance to jump aboard the Windows Phone 8 / Nokia train to victory with a slightly powered-down version of the hero Lumia line introduced earlier this year. We've got our review of the Nokia Lumia 920, a beast of a machine with its own set of top-tier features, now we see the lower end of the spectrum with the 810 and its slightly less daring smartphone body. As it turns out, much of the experience here is the same, with not a whole lot of apparent difference to be seen between this and any other high-powered Windows Phone 8 smartphone on the market thus far.
Hardware
Just as the Lumia 920 and 820 come loaded with the Qualcomm Snapdragon S4 dual-core processor at 1.5GHz with Adreno 225 graphics, so too does the 810. It's certainly not in the processing department that you'll see any less a device here than in the higher-up members of the Lumia family. Likewise you'll be getting a great display at 4.3-inches of OLED screen with 480 x 800 pixel resolution.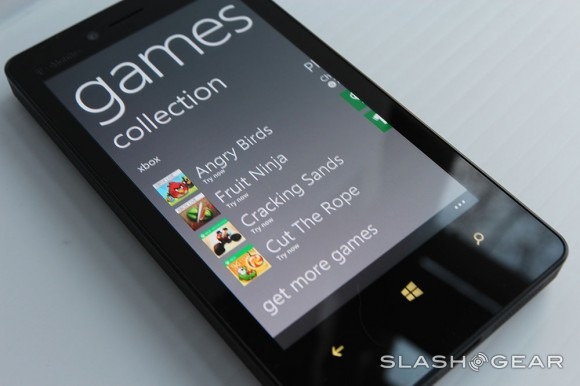 This device also comes with Nokia's own "Clear Black" technology for the deepest of blacks, so they say, and a "super sensitive touch" as well. Though the blacks don't seem particularly blacker than any black we've experience before (aka none more black), the touchscreen is indeed more than responsive enough for anyone's tastes. You will not have to double-tap here, that's for certain.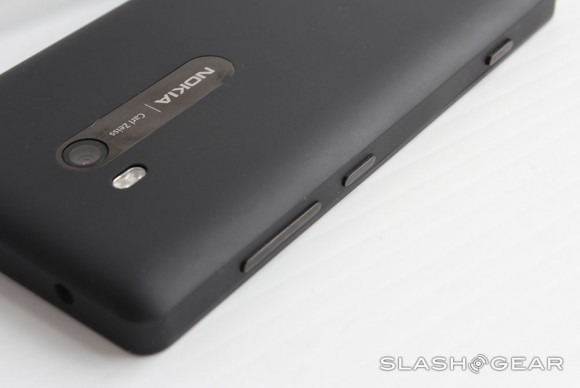 This device has a lovely soft plastic back that comes off essentially all in one piece and contains a removable 1800mAh battery for all-day action (more on that in the Battery section below). The device measures in at 5.03 x 2.69 x 0.43 inches (127.8 x 68.4 x 10.9 mm) and weighs in at just 5.11 oz (145g). This machine has a front-facing camera for web chat at 1.2 megapixels and works with a perfectly excellent 8 megapixel camera on the back with 1080p 30fps video capabilities as well.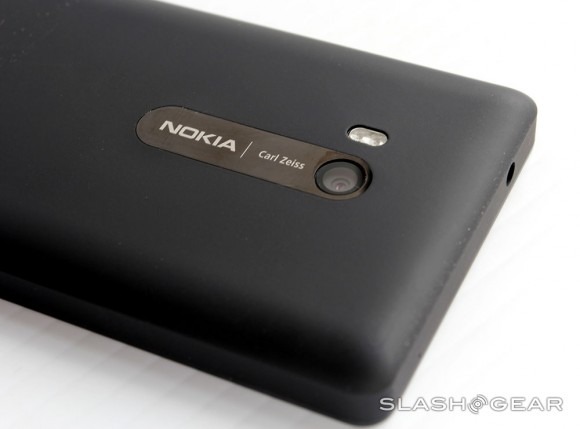 Gone is the Pure View technology included on the Lumia 920, but the Carl Zeiss F2.2 aperture remains, complete with dual-LED flash action. You've got all the same abilities that the Lumia 920 comes able to work with – everything except the ability to take great photos in the dark.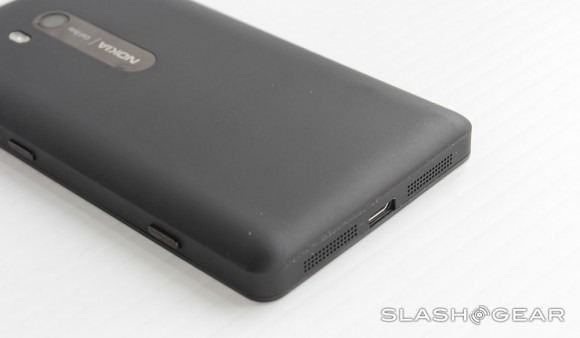 This machine doesn't have nearly as daring a physical shape and feel as the Nokia Lumia 920 or 820, but it's certainly great to work with. It feels comfortable to hold and certainly wont be blasting out any eyeballs with its standard black casing, that's for certain.
Software
Inside you've got Windows Phone 8 with a set of applications that remains the same as the Nokia Lumia 920 internationally – but here with T-Mobile additions. You have T-Mobile exclusive apps here the same as you have AT&T exclusive apps in the AT&T Lumia 920. Also the same is your ability to toss these apps if you do not need them – the same goes for the Nokia apps, but in that case, you'll want to take another look.
Here the Nokia Lumia 810 shines with a set of Nokia's Windows Phone 8 hero apps, each of them designed to bring you an awesome mapping or music experience that you'll not be able to get on any other hardware. Nokia provides an ever-so-slightly unique experience in the software department designed to set them apart as a Windows Phone 8 competitor to be reckoned with. As it stands, they're doing a pretty darn good job as far as we're concerned. T-Mobile is doing a pretty OK job as well here, making it easy to grab the apps they suggest for your ideal Windows Phone 8 experience.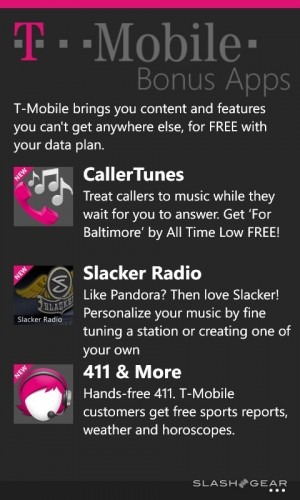 Be sure to take a peek at Nokia Music as well as each of Nokia's mapping apps, each of them designed to help you find out more about the environment you're living in and to help you navigate your way through it. That's turn-by-turn navigation tied with augmented reality showings of businesses and landmarks near you along with public transport planning as well. Nokia Music, on the other hand, is quite simply a totally awesome free streaming music service – that also leads you in to Nokia's own music store, as well.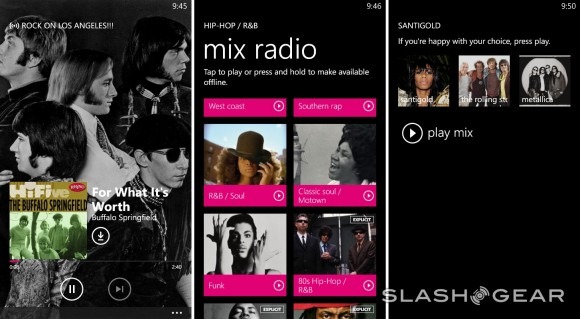 With Nokia Music you've got the ability to tap three of your favorite artists and put them in a playlist, Nokia creating for you a high-powered mix made with algorithms of greatness, shooting out mixes you'll love by all manner of artists related to your favorites. There will certainly be smartphone users out there who purchase a Lumia device simply because Nokia Music is aboard – it's just that slick.
Battery Life / Camera
The battery on this device is up on the high end with 1800mAh capacity – that's going to last you at least one day's worth of average usage as well as camera work. If you're a heavy user, you may have to charge before 10 hours are done, but if you're only going to use the device for web browsing, texting, and taking photos, you'll have more than a day's usage out of the Lumia 810. This is due in part to the software not needing too much from the battery to keep up and running, but mostly because Qualcomm's Snapdragon S4 dual-core processor is great at battery conservation.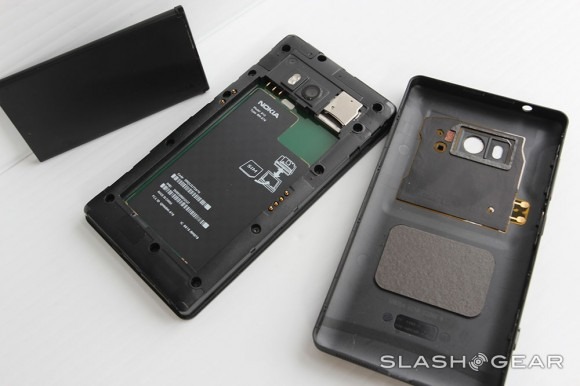 The camera is 8 megapixels strong on the back with 1080p video recording ready for action – and it's pretty nice. Again you've got partially the Snapdragon S4 dual-core processor to blame for the nice images at the end due to its dedicated image processing architecture, but Nokia has really stepped up their efforts in the hardware department as well with a fabulous lens. The Nokia Lumia 810 works with a camera that's easily one of the top in its class – both in your ability to quickly and easily shoot photos and video and in the end result photos.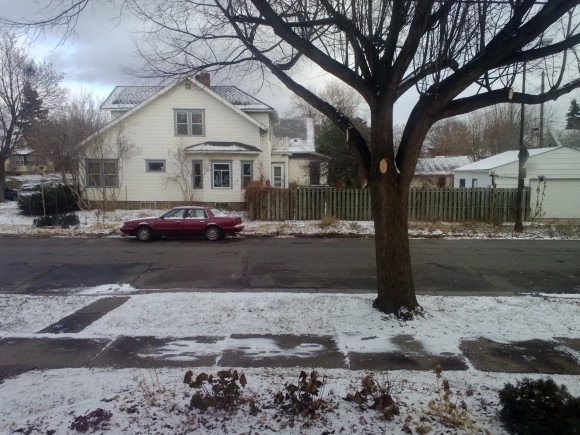 Again you should note that this device does not have the same PureView technology that the Nokia Lumia 920 does, so when you take a photo in the dark, you're going to want to put the flash on. Otherwise you're getting great photos in essentially any environment, and being able to access your camera with the physical camera button right through the lockscreen is a definite plus.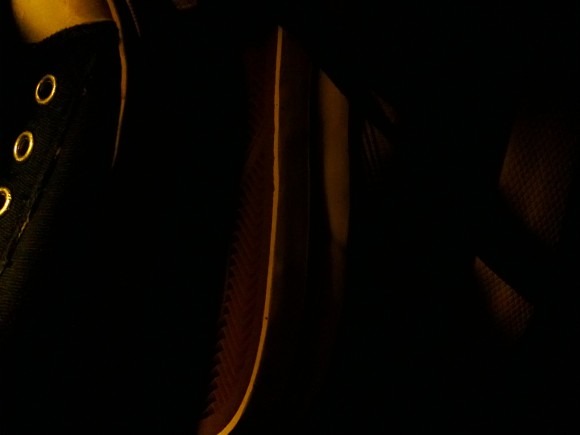 Above: Dark – it doesn't work on the 810, but it definitely does on the 920. Below: In the light, the 810 can take perfectly wonderful photos galore.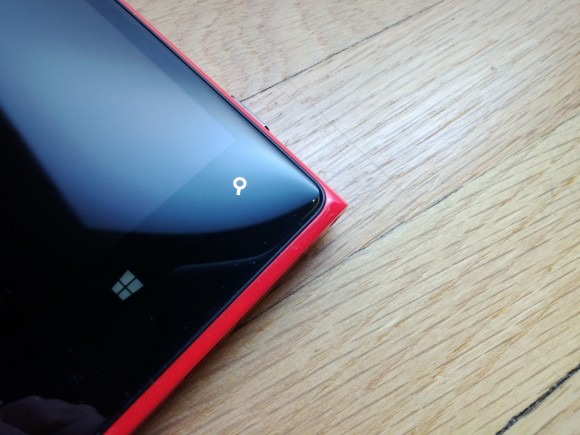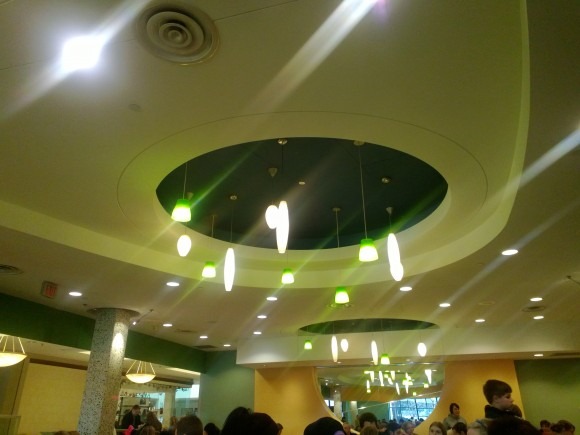 Wrap-up
In the end, Nokia has created another real winner for the Windows Phone 8 universe as a whole. The Nokia Lumia 920 may be just that little bit better with a slightly larger display and loud body, but the 810 takes care of the user who doesn't want to take a monster out of their pocket every time they need to make a call. This is the business person's Windows Phone 8 smartphone.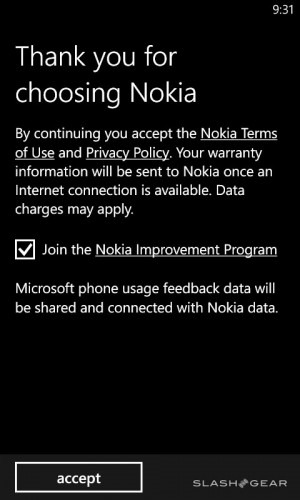 You'll want to consider this device if you're definitely working with T-Mobile in the near future and will be living in the Windows Phone 8 universe. It's not going to be winning any popularity contests against the Samsung Galaxy S III or an unlocked T-Mobile-wielding iPhone 5 any time soon, but that's not what it's made for. Instead its your first great choice for Microsoft's next generation in mobile OS action. The Nokia Lumia 810 is a truly solid Windows Phone 8 experience, top to bottom.