Nokia Lumia 610 hands-on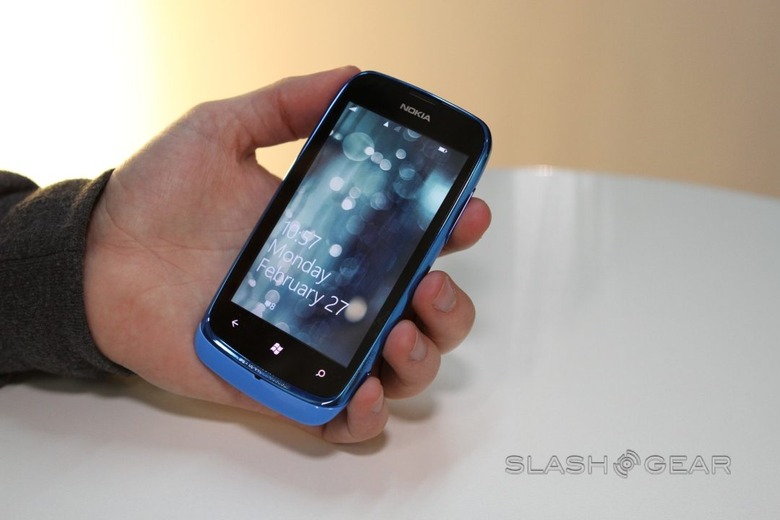 Nokia's Lumia 610 doesn't have the slick unibody casing of the 800 or the huge screen of the 900, but it does have a bargain price tag. Pushing Windows Phone to a new price point – and into fresh markets – the fourth Lumia takes advantage of Microsoft's new, pared-back minimum hardware specifications with just 256MB of RAM and an 800MHz processor.
Style-wise, the Lumia 610 is more reminiscent of the Lumia 710 than its more expensive siblings, with a slick metallic band that runs around the bezel and up across the top edge of the phone – where the microUSB and headphone sockets are – and a selection of interchangeable back panels. Nokia plans to offer multiple color options, and is really pushing the concept that its recent phones offer more choice of hues than the average black smartphone lump.
In the hand, it's reasonably sturdy though obviously not as premium in its feel as other Lumias. The touchscreen – still running at WVGA resolution – is responsive and we didn't notice any great impact from the slightly slower processor. Still, this is all prototype hardware and non-final software, so we can't draw any final conclusions until the tweaked version of Windows Phone 7 is available to support the new hardware specs, itself expected in April.
Nokia Lumia 610 hands-on:
What may swing it for the Lumia 610 rather than, say, cheap Windows Phones from ZTE and Huawei are the custom apps Nokia preloads. Nokia Drive has been updated and there's a new Nokia Reading app for consuming news content; you get Nokia Music, too, for streaming audio content. We've got video processing and will add it in as soon as it's ready.