Nokia Lumia 521 Review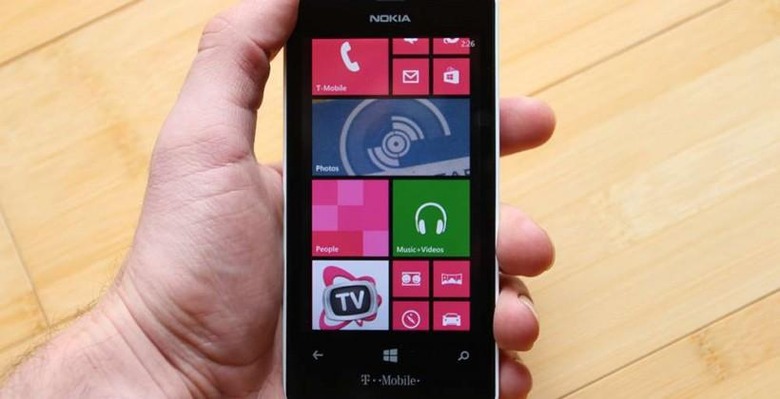 If you thought the Nokia Lumia 520 was good, boy are you going to have a great time with the Nokia Lumia 521. Essentially the same device as you'll be getting internationally, this T-Mobile iteration of the entry-level Windows Phone 8 device brings the same package (with slightly different radio connections and a few extra apps) to the USA, here with the same bright white back cover as we saw across the sea (one of three, as it were).
Hardware
With the Nokia Lumia 521 you're rolling with a 4-inch display (running at WVGA) which, if you're using anything sharper at the moment, will be just a bit more pixely than you'll want to live with. This machine is, instead, made for those users upgrading from feature phones – and it'll do a fine job of it.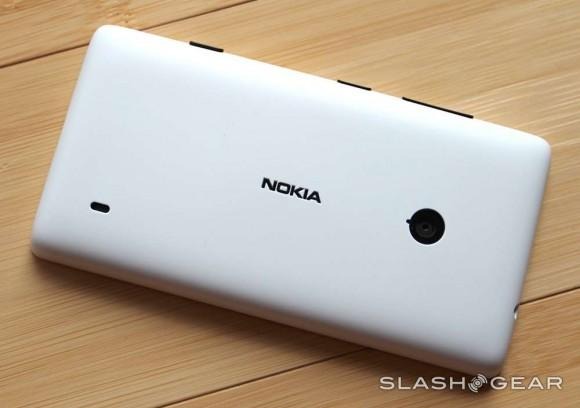 The handset measures in at 4.9 x 2.5 x 0.4 inches and weighs just 4.4 ounces – it's lighter than it looks. You'll connect to this machine with a microUSB cord (included in the box) and a microSIM for data, and both the back cover and the battery within are removable. There's also a microSD card slot under the hood for an additional 32GB of space if you do so desire – you may want to pick up a microSD card when you purchase the smartphone since the 521 works with just 8GB of internal storage.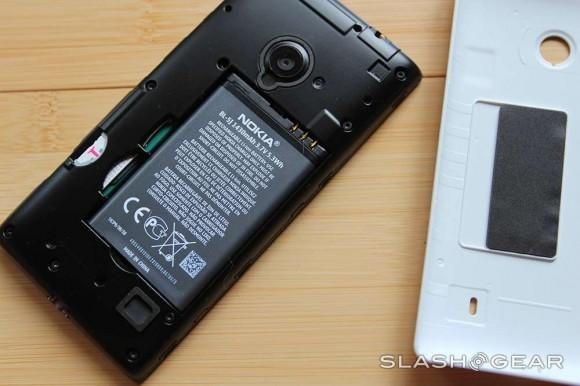 Inside you've got a Qualcomm Snapdragon S4 dual-core processor at 1GHz paired with 512MB of RAM. Again, this is meant to be an upgrade for the feature phone crowd and not a battle-ready beast for the top-tier entrants in the Windows Phone 8 world. That said, this machine is swift as much of the Windows Phone 8 crowd simply because the processor paired with this screen – small and low-res as it is – makes for hot-tapping and access to the basic collection of apps available to the whole Windows Phone 8 smartphone collection.*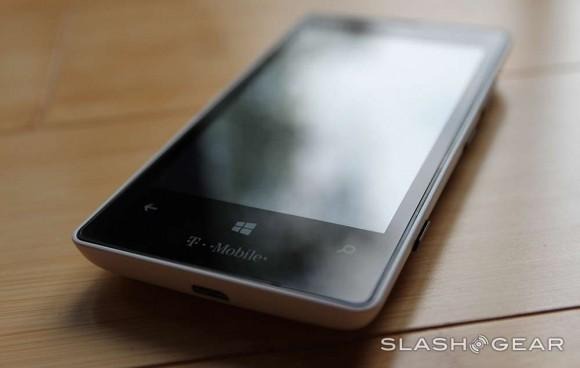 You won't be set up for future implementation of T-Mobile's LTE network, instead kicking it up to today's fastest data speeds from the network at HSPA+ 21. We'll be bringing you "top speed" results as soon as we can kick out speeds above the general average – for now you'll take comfort in knowing we've not have a dropped signal anywhere inside the metro area in Minneapolis / Saint Paul, Minnesota.
The back of this machine is replaceable – compatible with the international edition of the handset as well, so finding even 3rd-party offerings in the wild-and-wacky case-making environment will work. Or SHOULD work – always be cautions if you're buying 3rd party gear. Nokia brings the heat with this machine in white (seen here) as well as yellow, blue, and red.
Software
It should be made clear that this device brings Nokia's unique collection of Windows Phone apps to the show – the same as each other Lumia both here in the USA and overseas. While you'll get a limited number of these on the device right out of the box, you'll have Nokia's app portals to keep you busy.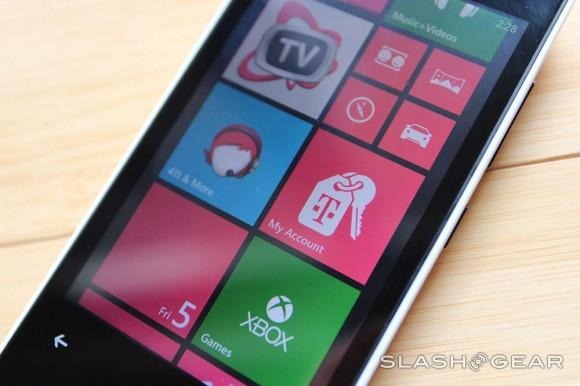 *At this point in history it's difficult to find a smartphone running Windows Phone (Windows Phone 8 and forward, that is), that isn't able to work with every app in Microsoft's official app store. Nokia also provides such unique offerings (available to Lumia devices only) as Nokia Music, HERE Maps, HERE Drive, and HERE Transit. It's all HERE, you could say.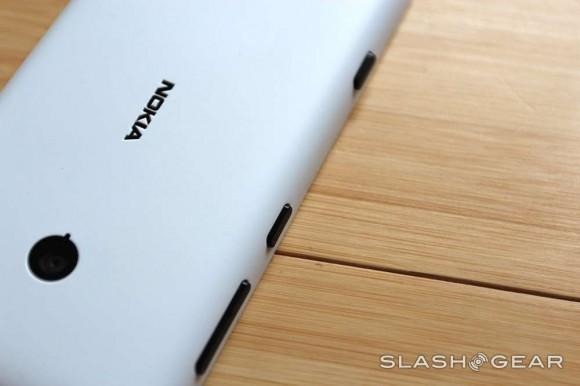 All except – notably – app abilities such as the augmented reality bits of City Lens (as seen with the Nokia Lumia 920 demo we got all the way back in September of 2012, courtesy of Nokia) inside HERE Maps. This doesn't exist on this machine due to the lack of a digital compass in the 521. With A-GPS and Glonass you've still got turn-by-turn navigation throughout the USA
Camera
While there's no front-facing camera on this machine, the back-facing 5-megapixel shooter is more than enough for the standard social networking sharing and general photo-taking activities you'll be inevitably taking part in. While Nokia's real industry-leading efforts in the camera world rest with devices like the Lumia 925 (internationally) and the Lumia 928 (here in the USA with Verizon), the Lumia 521 brings a decent "that'll do" sort of setup – which you'll see in example photos and video here.
Battery
While Nokia rates this device at 7.5 hours talk time with standby at 12.5 days, we've found the 1430mAh battery to be standing up to a full days' standard use without issue. If you're a heavy user, on the other hand, expect to knock this battery out in a matter of hours – especially if you're streaming video from something like T-Mobile TV (also built in to the device, courtesy of the carrier.)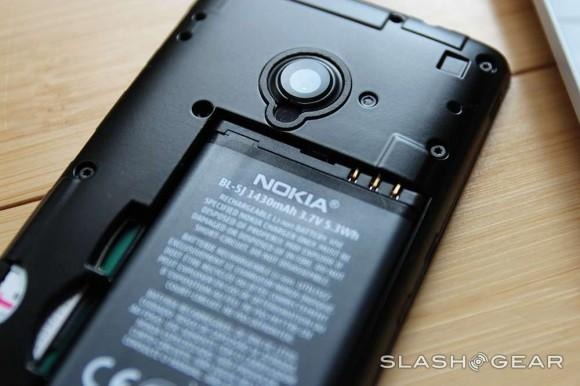 Wrap-Up
The Nokia Lumia 521 isn't the nicest Windows Phone 8 device on the market – and it's certainly not the hottest Nokia machine out today – but it's not meant to be. Working to be the cost-cutting entry level to the Windows Phone 8 universe with the good ship Nokia – that's the aim. That's what this machine will do, too – expect quite a few upgrades to higher-powered Lumia devices once the 521 is paid for in full by users on T-Mobile.