Nokia Lumia 1520 Review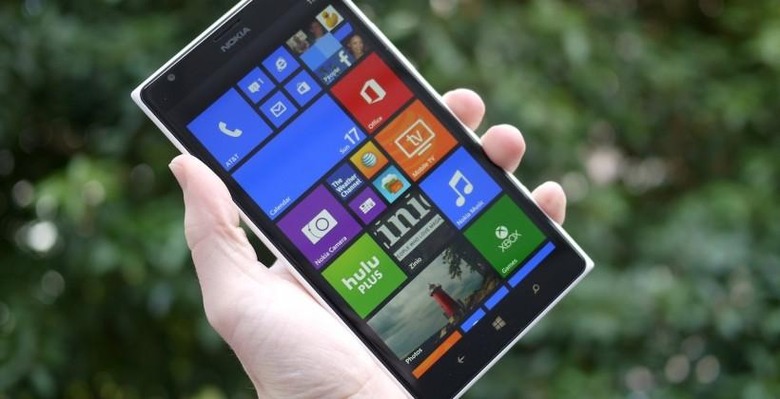 You're to blame for the vast Nokia Lumia 1520. "Make a phablet" we kept asking Nokia, "give us a big Windows Phone to compete with the Galaxy Note." That Nokia – and Microsoft – went off to the drawing board and returned with a hand-dominating 6-inch monster is a juicy sort of irony, then: this is a Lumia that not only comes in larger than just about every other smartphone on the market, it could be considered a small tablet in its own right. Problem is, there's a difference between a big phone and a great one, so has Nokia done more than enlarge Lumia? Read on for our full review.
Hardware and Design
If you didn't have a sense of scale – a hand, for instance, or a rival device – you could readily mistake the Lumia 1520 for something from Nokia's back-catalog. The company continues with its unibody polycarbonate design language, and while it's still eye-catching and sturdy, after a few generations we're itching to see a little more premium metal involved.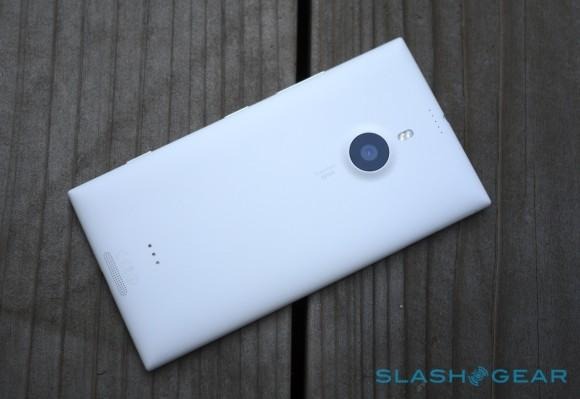 In fact, the Lumia 1520 looks a whole lot like the Lumia 720, but at 162.8 x 85.4 x 8.7 mm and 206g it's considerably larger. Nokia offers four colors – the matte white of our review unit, plus a matte cyan, a glossy red, and a matte black – along with a new smart case that twists into a magnetically-held stand for video consumption, as well as waking the phone (though not unlocking it) when opened.
Too big? That's certainly one argument that we couldn't criticize you for making. If you're of the skinny jeans brigade then the Lumia 1520 may not fit your pocket, certainly not without being seriously noticeable, and with the case on we had even more trouble accommodating it. In use, it's a two-handed device: try to hold it one-handed and reach over with your thumb, and you'll be limited to a small arc that in no way covers the whole of the screen.
Along the side are the usual volume keys, power/lock button, and camera shortcut, while a microUSB port is on the bottom edge and a volume jack on the top. A nano SIM card fits into a tray on the upper left edge, alongside a separate tray for a microSD card; up to 64GB cards can be used to augment the 16GB of internal storage, though a 32GB version is in the pipeline.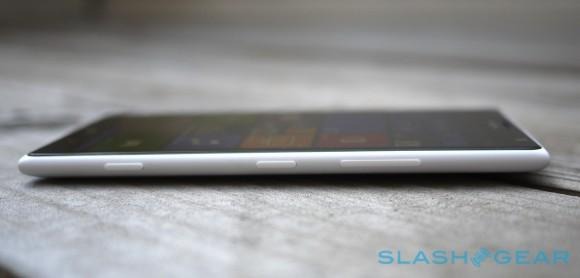 Also inside is Qualcomm's 2.2GHz quadcore Snapdragon 800 processor with 2GB of memory, LTE, Bluetooth 4.0, NFC, and WiFi a/b/g/n/ac. Most of the specifications are shared with the Lumia 2520 tablet, in fact, though the slate does not get 802.11ac to play with. The Lumia 1520 can also do WiFi Channel Bonding for better throughput with compatible routers.
Undoubtedly the most impressive part of the Lumia 1520 experience is the display, however. At 6-inches it's obviously big, and at 1920 x 1080 resolution it's obviously got plenty of pixels, but the on-paper specs don't do justice to how well this screen really performs. Nokia bills the IPS LCD panel as ClearBlack, which we've seen before, but it's the most successful of the so-named panels to-date, particularly when outdoors.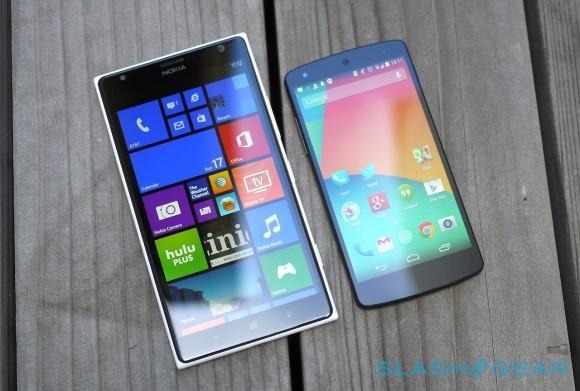 That's because, in addition to super-sensitive touch so that you can use the Lumia 1520 while wearing gloves, Nokia has built in some seriously smart screen adjustment that reacts to ambient lighting conditions. Whereas other devices simply use a light sensor to crank up the brightness while in direct sunlight, usually with the result of leaving brighter on-screen graphics just about visible but more subtle detail still obscured, Nokia's new phablet actually dynamically changes the picture to suit.
So, bright areas might be toned down, so that any fine detail isn't washed out, while darker parts of the screen have their contrast tweaked to improve clarity. It's subtle, but it works, and it means that the Lumia 1520 is considerably easier – and more productive – to use while outside, particularly in apps that make use of transparency in their UI, like Nokia's own Camera software.
Rounding things out are the front-facing 1.2-megapixel f/2.4 camera and a PureView-branded 20-megapixel camera with six-element f/2.4 Carl Zeiss optics, a dual LED flash, optical image stabilization, and a 2x lossless digital zoom.
Software and Performance
A new, polished version of Windows Phone 8 – and Nokia's own Lumia Black update – makes its debut on the Lumia 1520, and the most noticeable change is on the homescreen. There's now support for three columns of Live Tiles there, while you get a little extra information in things like the calendar and email apps. We're not talking huge amounts of greater detail, mind; despite the 6-inches of screen and the 1080p resolution Windows Phone has to play with, for the most part the OS simply gets bigger rather than fitting more in.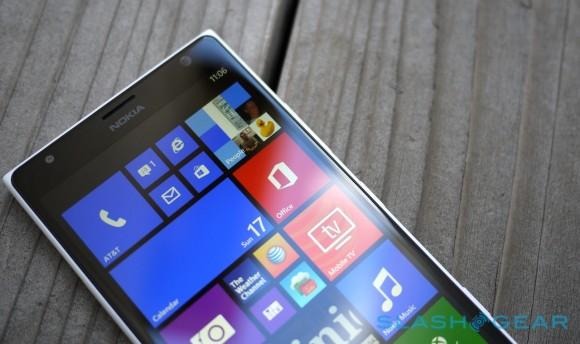 It's a shame, as the Lumia 1520 has potential as a phablet in the true sense of the portmanteau. It's a big phone, but around the home it can comfortably replace a smaller tablet for things like web browsing and casual gaming. Sites look great on the Nokia, as long as you remember to dig into the settings and tell Internet Explorer to default to desktop rather than mobile pages, while text entry gets a truly massive keyboard to play with. In fact, we'd be content with a slightly smaller 'board and a little more UI instead.
You also don't get any alternative entry options. Samsung's stylus-driven Galaxy Note, for instance, isn't in any danger of being outshone on the pen front, since Nokia opted to make the Lumia 1520 touch-only. A keyboard cover would be another obvious accessory – handy for those last-minute word processing chores with the preloaded Office suite – but there's no sign of that, either. Nokia can usually be counted on to develop some interesting accessories for its phones, but the range for the Lumia 1520 is pretty mundane.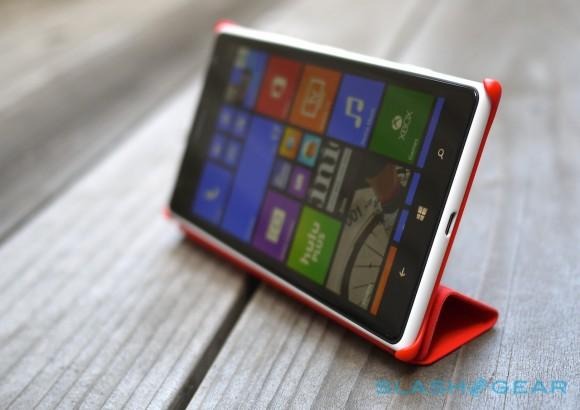 What you do get is Nokia's new Glance screen, which floats a dim clock and up to five notification icons on the display while it's locked. It's optional, and it does add a second layer before you get to the homescreen itself: first you double-tap to get past Glance, then you swipe again to dismiss the usual Windows Phone lockscreen.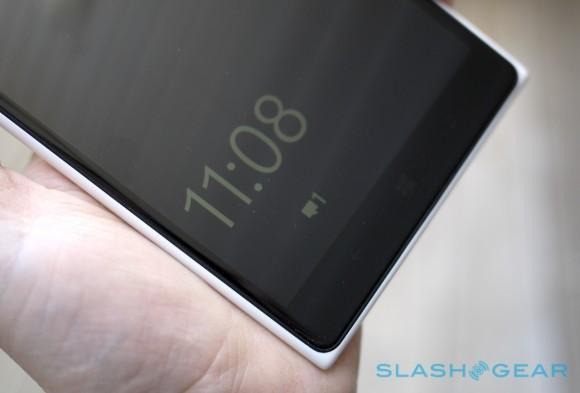 Bluetooth 4.0 and the low-energy features it offers are now supported – though we'll need companion apps for things like Jawbone's UP24 before it's capitalized on – while media streaming gets Nokia Beamer to play with. That funnels the on-screen picture on your Lumia 1520 to any web-enabled display – whether the browser on a desktop or tablet, or a smart TV – for remote viewing. It works well, albeit with some lag if you're not on the same network.
Nokia's biggest app is Storyteller, which launches on the Lumia 1520 and Lumia 2520 tablet. Designed to organize your photos into a more manageable interface, it uses date stamps and geotagging to cluster shots into different albums and then allows you to browse them on a map interface. Pinch-zooming out shows the map itself, and then Storyteller floats point-of-interest icons around each shot.
it's an interesting idea, though we're not entirely sure whether there's a great amount of interest in retrospectively exploring what activities you could've done had you known about them at the time. If you've got a Lumia 2520, you can wirelessly pair it and the 1520 and browse Storyteller using images stored on the phone, but with the expansive 10.1-inch display of the tablet instead; alternatively, you can access photos stored in SkyDrive.
We can't complain about speed overall. The 2.2GHz quadcore makes the Lumia 1520 a tiny powerhouse, whipping between apps, loading and playing games with little to no lag, and chomping through the SunSpider test of Javascript browser performance in just 542.3ms.
Camera
Nokia continues to make photography the centerpiece of its smartphone proposition, though the Lumia 1520 arguably makes a compromise in order to better suit the mainstream. Whereas the Lumia 1020 has a 41-megapixel PureView system, and a chunky, oversized camera assembly to accommodate it, the Lumia 1520 trims its camera down to 20-megapixels so that it can make do with a moderate pucker around its lens instead.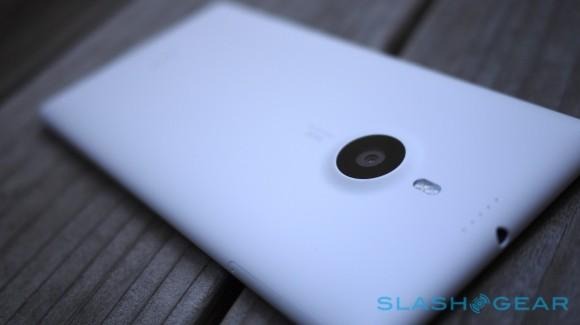 As you might expect, sacrifice megapixels and you sacrifice some of that PureView magic, too. Whereas the Lumia 1020 can use its surfeit of pixels to offer a full 3x digital zoom with no loss in quality, the Lumia 1520 can only manage a 2x zoom. Since Nokia doesn't believe in diluting the impact of PureView's zooming trick by doing anything that reduces picture quality – a stance it took from the very first 808 PureView – there's no way to extend that zoom by compromising on the clarity of the end image.
Still, even a 2x zoom with lossless performance is impressive for a smartphone, and it's made easier to harness – along with all the other abilities of the camera – with the new Nokia Camera app. Launching on the 1520, but eventually rolling out to other recent Lumia, Nokia Camera pulls together the previously disparate strands of Pro Camera and Smart Camera and merges them into one, triggered by the physical shortcut button, and making for streamlined access not only to the manual settings but the various feature "lenses" Nokia adds.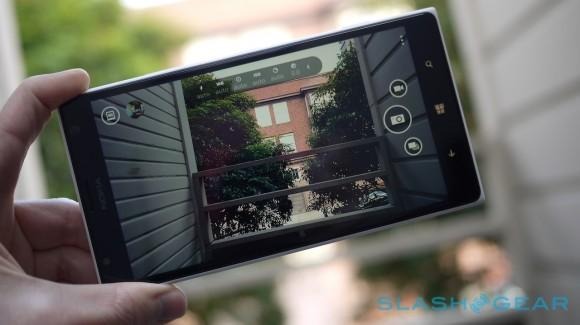 Those lenses include a few new options this time around. There's a background-defocus tool which, after you draw around the area you want highlighted, automatically blurs everything but that, along with a color picker that pulls out certain hues in-frame while making the rest monochrome. Nokia's cleverest trick is perhaps its Lytro-lite Refocus, which uses multiple images taken at different focal lengths in rapid succession to emulate the touch-to-focus camera technology.
The lens gimmicks are fun – Blur in particular, and we can envisage freshly-released Instagram for Windows Phone soon being peppered with the tweaked shots it produces – but overall it's the reliability of the 1520's camera which makes it successful. It's not as detailed as the Lumia 1020's shooter, but it's well balanced. Low-light shots come out well, and while we found colors could be a little more muted than we preferred, that's readily adjusted by switching out of auto mode and playing with the settings.
Still present, though to a far lesser extent than on the Lumia 1020, is a little processing lag. Where the 41-megapixel Windows Phone could sometimes suffer several seconds in-between shots, while the slower CPU did its crunching, the time the Lumia 1520 takes to handle the simultaneously-captured 5-megapixel and 19-megapixel images is noticeably less. There's still some delay, however, and it's not the back-to-back speed machine of, say, the iPhone 5s.
Battery
Nokia has used the bigger chassis to fit a big battery, and the Lumia 1520 gets a 3,400 mAh li-ion pack to play with. It's non-user-accessible, though the company claims it'll run for up to 24hrs of 3G talk time or 11hrs of WiFi browsing on a full charge.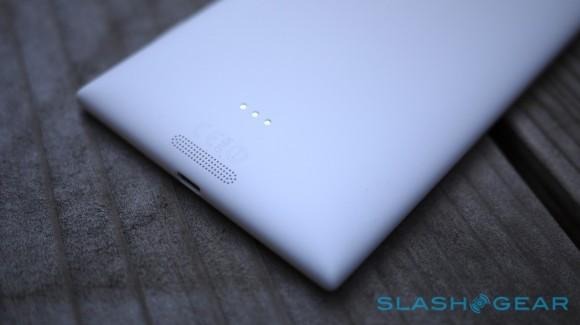 In practice, the Lumia 1520 isn't quite the long-distance runner you might expect given the size of the battery it's playing with. That's the penalty you pay for a huge, bright display of course: we got through a full day of regular use, including push email, browsing, some Nokia Music playback, some photography, and a brief period of navigation. Anything that keeps the display on is going to cause the battery gage to take a hit, however; we used Nokia Drive on the Lumia 1520 for about 90 minutes navigation, and the meter was down around 20-percent when we were done.
Unfortunately, while Nokia saw fit to include wireless charging on the original, international design of the Lumia 1520, the version AT&T will be offering as an exclusive in the US won't have it baked in. Instead, users will have to fit an optional wireless charging cover that connects with a row of pogopins running along the lower rear edge. It's a disappointment, certainly, though we can at least say we had no issues with voice calls or data access on AT&T's network.
Wrap-Up
There's a big market for big phones. Samsung's Galaxy Note 3 and its predecessors have shown us that, and the gradually increasing size of the average flagship handset's display suggests the rest of the market has caught on. The Lumia 1520 has seen Nokia jump ahead in terms of screen real-estate, and the display itself is a real winner.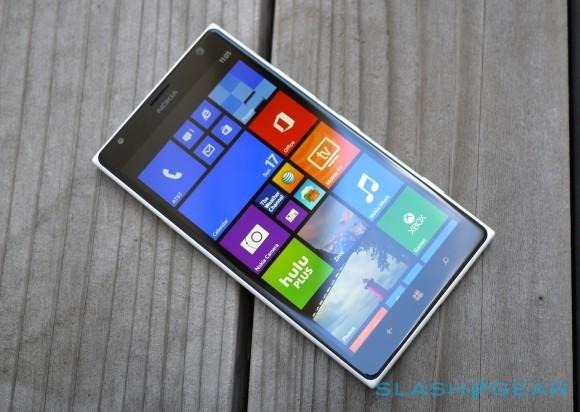 Pair that with a reliable camera, a fair degree of style, and the ease of use of Windows Phone, and you should have a winner on your hands. Our lingering concern is an echo of how we felt about the 5.9-inch HTC One max: part of the phablet compromise is that you accommodate a big phone in your pocket but also get extra functionality above and beyond smaller devices. Without a trick stylus and faced with the merely moderate tweaks to the latest version of the OS, we're left with a feeling that Nokia hasn't quite made the most of its excessive scale.
For the moment, there's no other Windows Phone that offers the same power and display resolution as the Lumia 1520. Give it some time, though, and other devices will catch up, leaving the key reason to opt for the 6-inch Nokia being its vast screen. Some will consider that reason enough to buy, but anybody hoping for the flexibility of a true phablet may discover the Lumia 1520 is simply a bigger version of handsets that came before it, not necessarily a better one.