Nokia Lumia 1520 "Bandit" 6-inch Windows Phone reportedly appears in image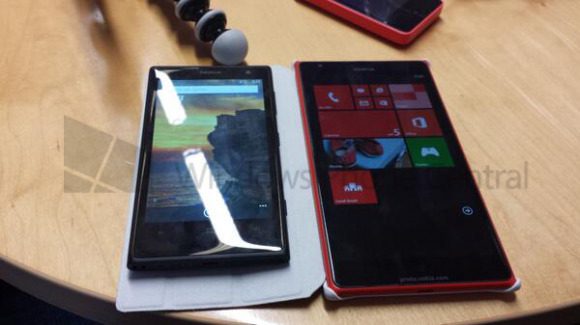 An image has surfaced featuring a red handset said to be the Nokia Lumia 1520 "Bandit", the first in Nokia's Windows Phone lineup that features a 6-inch display. We reported on this last week as sources dropped information to the folks at Reuters, pegging the 1520 for a late September reveal at an event in New York City alongside other devices.
The image was sent to the folks over at WPCentral, and in it we see a red Windows Phone Lumia featuring a cover-harboring case and a smaller handset next to it for size comparison. The image isn't confirmed and there's no way to know for now whether it is the real deal, but nothing in the shot detracts from the claims. Look closely, and you'll notice what seems to be a "proto.nokia.com" stamp near the bottom of the handset.
Per leaks that have surfaced thus far, it seems the Lumia 1520 will be either the first or one of the first Windows Phone smartphones to feature a Full HD display, while current Nokia WP handsets max out with a 720p resolution. That aside, it will also serve to open the so-called phablet variety of smartphones to Windows Phone users.
Word also has it the handset will feature a 20-megapixel camera on the back, slightly raised from the rest of the phone, and that it will have a polycarbonate body rather than a metal one. It is also being claimed that a quad-core Snapdragon will be found under the hood, though specifics on hardware haven't been leaked.
SOURCE: WP Central