Nokia Lumia 1320 Review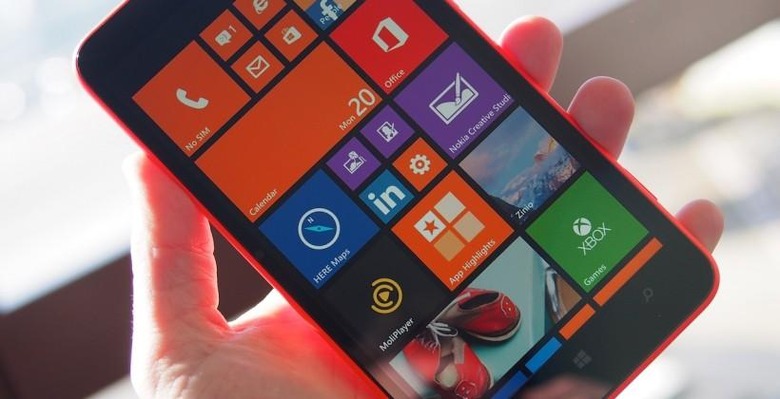 Nokia's Lumia 1520 grabbed the bulk of the headlines at the company's Abu Dhabi event last October, but it wasn't the only phablet the company brought along. In addition to the 6-inch flagship there was another, more affordable phone, the Nokia Lumia 1320, trading some of the high-end specs in favor of mass-market appeal. Question is, with a lower resolution display and the sacrifice of PureView, has Nokia trimmed too much to make the Lumia 1320 a hit? Read on for the full review.
Hardware and Design
Compare the two phones, and the similarities are clear. Nokia describes the Lumia 1320 as a "large screen 4G business smartphone" but those who want movies on the move will find appeal here too: the 6-inch screen may only run at 1280 x 720 resolution – rather than the Full HD of the Lumia 1520 – but it still uses Nokia's ClearBlack IPS LCD technology for solid outdoor visibility and good viewing angles. It's also a super-sensitive touchscreen, which means you can use it while still wearing gloves.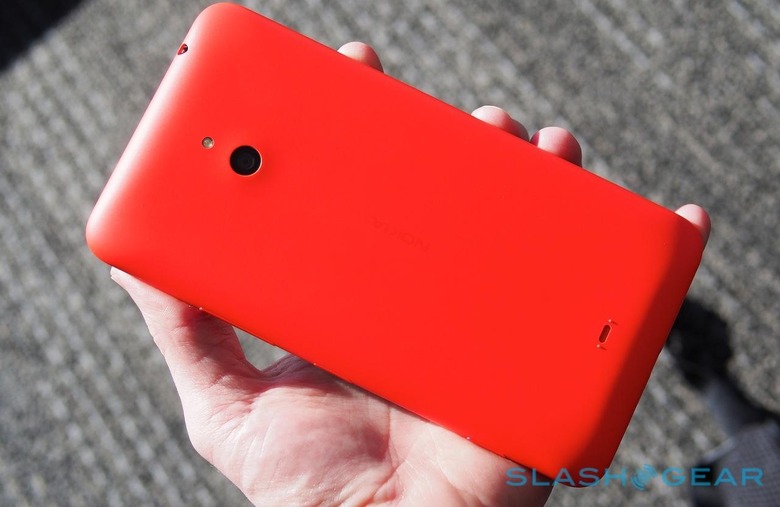 The plastic frame looks like an enlarged version of the Lumia 720, with gently curved edges and bright colors. It fits into the hand comfortably, though the 164.2 x 85.9 x 9.8 mm size means it's a large device. Nokia offers it in black, white, orangey-red, and yellow, depending on how colorful you're feeling, though since it's removable you can swap it out for a different finish if the mood takes you. Even though it may not be as high-tier as the Lumia 1520, it still feels solid and well constructed.
Inside, you get a 1.7GHz dualcore Snapdragon S4 processor paired with 1GB of memory and 8GB of storage. That's on the low side for a modern smartphone, but Nokia has sensibly used some of that big chassis to accommodate a microSD card slot for adding up to 64GB more. Connectivity includes LTE, WiFi b/g/n, Bluetooth 4.0, and a microUSB 2.0 port, but there's no NFC or 802.11ac support. Still, neither are likely to be deal-breakers to the Lumia 1320's target audience.
Software and Performance
The Lumia 1320 runs Windows Phone 8 with Nokia's Lumia Black software update. The Metro UI homescreen is by now familiar, as are Nokia's custom apps, most of which overlap what we saw on the Lumia 1520.
It remains a comprehensive suite for the new-to-smartphones user, especially if you're jumping ship from Android or iOS. HERE Drive and HERE Maps remain some of the better free mapping and navigation options, with spoken guidance, offline maps, street-level photography, and Nokia's LiveSight augmented-reality system that overlays nearby points of interest on top of a live feed from the camera.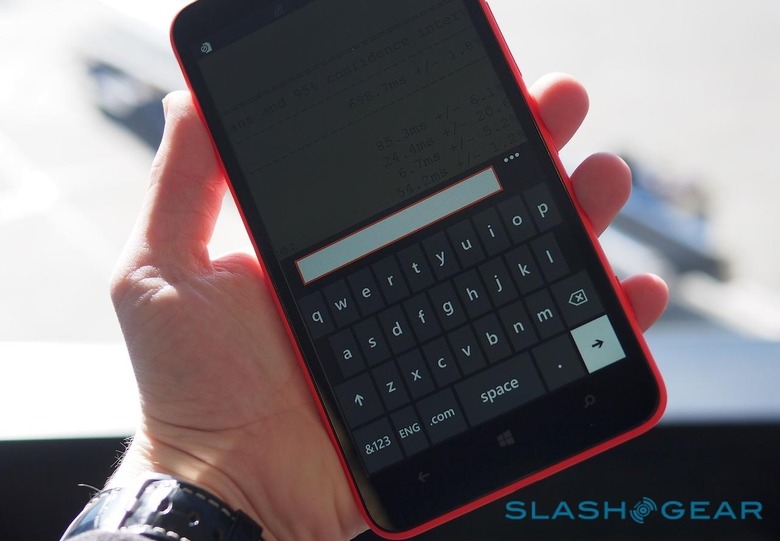 Nokia MixRadio, meanwhile, delivers free streaming audio, though there's also Xbox Music and Spotify apps out there if you'd rather a different platform. The Lumia 1320 also has an FM radio. Business users get Windows Phone's usual Office integration, while gamers get Microsoft's still criminally-undercapitalized Xbox LIVE integration. Nokia also throws in some special camera apps of its own, which we'll cover in the next section.
Performance-wise, though you're two cores and a few megahertz down on the Lumia 1520, the 1320 runs well. In SunSpider, the test of browser JavaScript performance, the 1320 completed the test in 698.7ms (faster is better); in contrast, the 1520 completed it in 542.3ms. Differences in everyday use are minimal, however.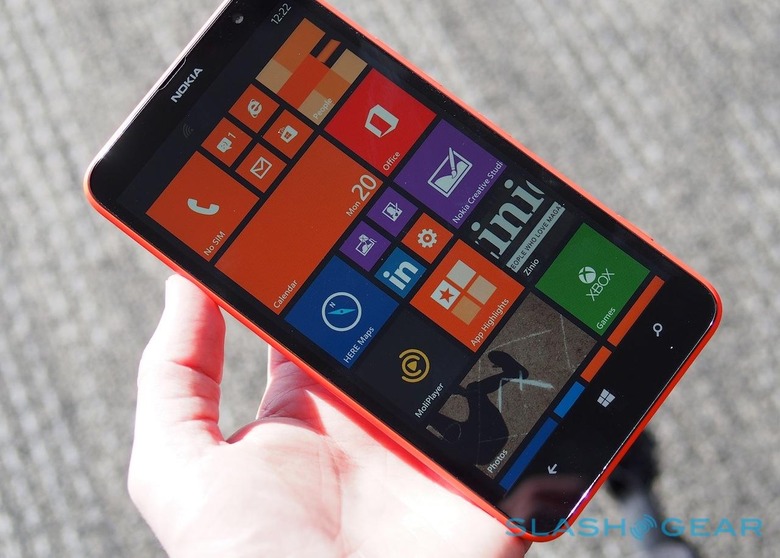 Our biggest complaint from the Lumia 1520 is unfortunately carried over to the Lumia 1320: Windows Phone works on phablet-scale devices, but it doesn't really take advantage of them. The homescreen gets an extra column for Live Tiles but other than that the interface is basically blown-up, not made more detailed. The on-screen keyboard, for instance, still occupies roughly half of the display, when it really could be smaller and leave more space for the apps you're actually using.
Camera
The biggest difference between the 1320 and its more expensive sibling is the camera. Whereas the Lumia 1520 gets a version of Nokia's PureView technology, complete with lossless digital zooming and better image quality through pixel clustering, the Lumia 1320 has a far more mainstream 5-megapixel camera on the back and a VGA-resolution camera on the front.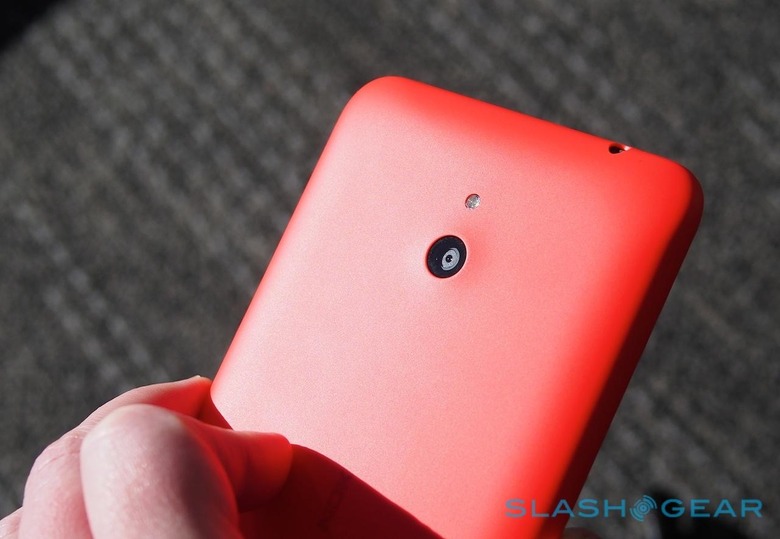 You also get a pared-back version of the camera app we saw on the 1520, since you lack the full extent of the features the PureView optics allow. Nonetheless, there's still Nokia Creative Studio for piecing together multi-stage images based on rapid sequential shots, cutting out unwanted objects in-frame, and tweaking things like color and contrast. Cinemagraph creates moving shots, while Nokia Glam Me smooths out your skin tone and makes other tweaks to beautify you, though it can leave people looking a little like plastic store dummies, and the low resolution front camera is seriously underwhelming.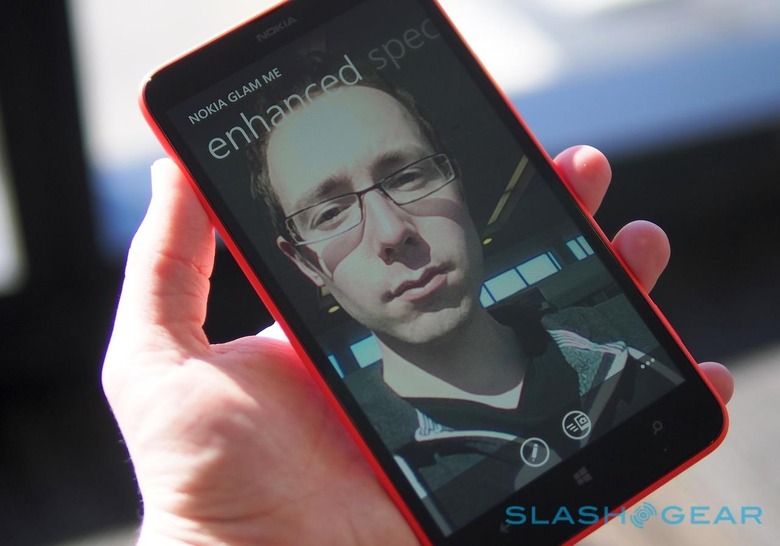 Things get a little better with the main camera, though it's certainly not in the top tier of Nokia's line-up. Close-ups have a good amount of detail, and the camera snaps frames quickly – particularly if you use touch-focus – but in broader scenes the lack of megapixels demonstrates its limitations, introducing noise and fuzz. Colors tend to be subdued.
Phone and Battery
In-call performance proved satisfactory, though at times the people we called complained we were quiet or a little echoey. That's despite the Lumia 1320 having active noise cancellation, though probably simply a matter of the size of the handset bringing the microphone further away from our mouths.
Despite the interchangeable back covers, the Lumia 1320's battery is non-removable. Happily, then, it's a sizable 3,400 mAh pack, which Nokia rates for up to 21hrs of 3G talk time, a month of standby, up to 98hrs of music playback, or 11.5hrs of WiFi browsing.
In practice, we made it through a couple of days use – with push-email turned on, and completing everyday tasks including some media playback, internet browsing, HERE Maps navigation, and photography – on a single charge. That's impressive for a modern smartphone, where nightly recharges have become the norm.
Wrap-Up
We like Windows Phone, and we like Nokia's design and many of its custom apps, but like its more expensive sibling the Lumia 1320 doesn't make the very most of its hardware. Having a huge screen is great for media playback – even at 720p resolution, not 1080p – but whereas it could have given email, messaging, and other apps more room to shine, the UI is just like that of smaller Windows Phones only enlarged.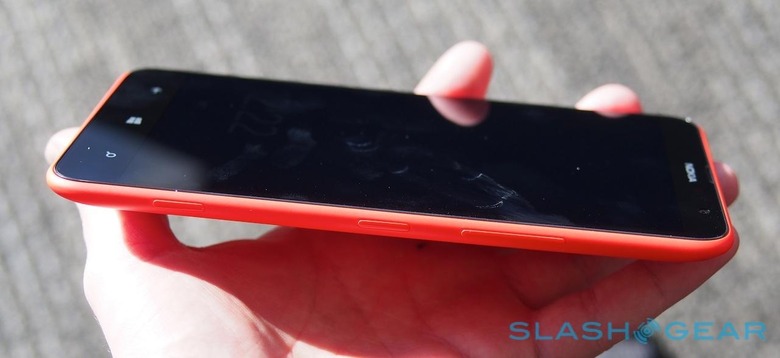 It's a missed opportunity, but perhaps it matters less on the Lumia 1320 than it did on the 1520. Unfortunately, without Nokia's excellent PureView system the camera on the phone is only average, though battery life is great and we like the sturdy build quality.
In the end, while size matters, it's also what you do with it that really counts, and we're not sure Windows Phone yet does enough to warrant phablet-scale for every user. Although some groups will find enough to love about the Lumia 1320's screen, Microsoft needs to do a little more to refine its OS to deliver on its half of the bargain. That will undoubtedly come in time, but for now we'd be more tempted by one of Nokia's smaller Lumia devices, particularly those with PureView cameras.