Nokia Lumia 1320 puts WP8 on a 6-inch midrange phablet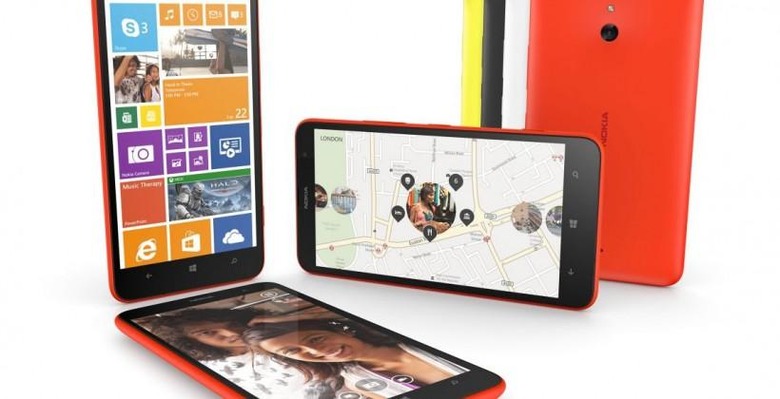 Nokia has two phablets to eventually get Windows Phone 8.1, the flagship Lumia 1520 and the more affordable Lumia 1320, a 6-inch smartphone for the mainstream. Using a 720p display rather than the Full HD of the 1520, the Nokia Lumia 1320 keeps the LTE of its more expensive sibling but scales back on the processor, with the Finnish firm opting for Qualcomm's Snapdragon 400 dualcore. Most disappointing, perhaps, is missing out on the PureView camera technology.
That's because, whereas the Lumia 1520 gets a 20-megapixel shooter using technology borrowed from the Lumia 1020, the Lumia 1320 makes do with a more standard 5-megapixel sensor. However, users will still get the new Nokia Camera app from the Lumia 1520, which combines the features from the Pro Camera and Smart Camera apps previously released.
Meanwhile, there's also a VGA-resolution front facing camera which can be used for Skype video calls. Inside, there's LTE, WiFi, Bluetooth, and a microSD card slot, though no wireless charging support, and Nokia isn't offering an accessory to enable it, either.
The plastic casing will be offered in orange, yellow, black, and white variants. Nokia will include its Nokia Music and HERE Maps software, while Windows Phone 8.1 adds a third column of Live Tiles to the Start screen, among other tweaks.
Unfortunately, unlike with the Lumia 1520, Nokia has no plans to launch the Lumia 1320 in the US. Instead, the phone will be released in China and Vietnam initially, followed by other Asian markets, India, and Europe. It's expected to be priced at $399 before taxes and subsidies.