Nokia Lumia 1020 PureView Official: 41MP Windows Phone 8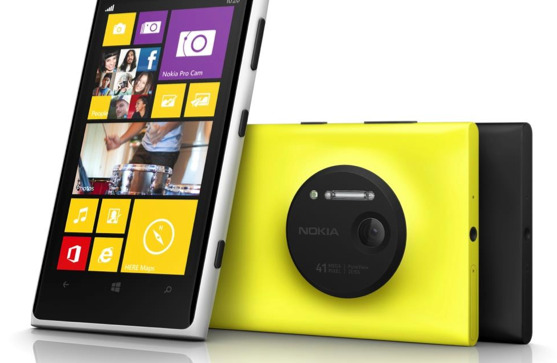 Nokia has officially announced the Nokia Lumia 1020, the company's latest Windows Phone 8 handset and the first to use a 41-megapixel PureView camera system. Building on the pixel-oversampling technology of the original Nokia 808 PureView, the Lumia 1020 squeezes the camera into a smaller – though still chunky – form-factor, complete with a Xenon flash and new Pro Camera app with more control over manual settings. It's headed to AT&T later this month, for $300 on-contract.
On the phone side, there's a 4.5-inch AMOLED HD+ 1280 x 768 display topped with Gorilla Glass 3 and packing a sunlight readability mode for easier outdoor use. Like the Lumia 925 and 920, it also supports gloved use, thanks to a high-sensitivity touchscreen.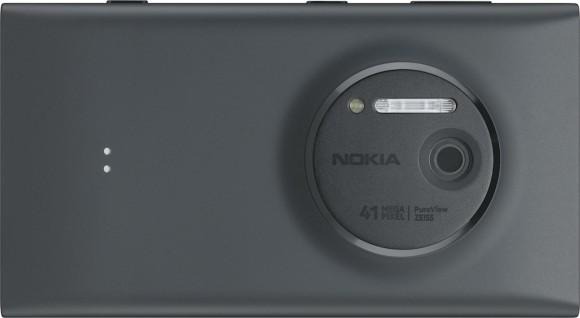 inside, there's a dualcore 1.5GHz Qualcomm Snapdragon S4 processor paired with 2GB of RAM and 32GB of internal storage. Connectivity includes LTE, HSPA+, and GSM/EDGE, along with WiFi a/b/g/n, Bluetooth 3.0, GPS, and NFC. The 2,000 mAh battery is non-user-accessible, and there's no integrated wireless charging; instead, Nokia will offer snap-on wireless charging covers, similar to how it did with the Lumia 925, which can be used to add the ability to the high-resolution smartphone.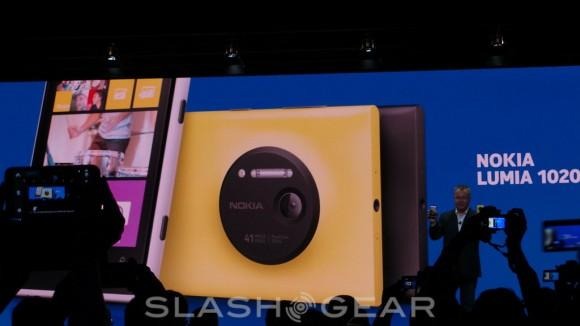 It's the camera we're most excited about, unsurprisingly, and it's there where Nokia has put in the most effort. The 41-megapixel sensor uses the same PureView system as the 808 did, clustering data from multiple proximate pixels together and producing normally-sized images with more accurate colors and brightness, and less noise.
There's also optical image stabilization and a backside-illuminated sensor, Zeiss optics, and a new Pro Camera app which gives greater than usual manual control over settings like exposure, ISO, and more. Above the display there's a 1.2-megapixel camera with a wide-angle lens.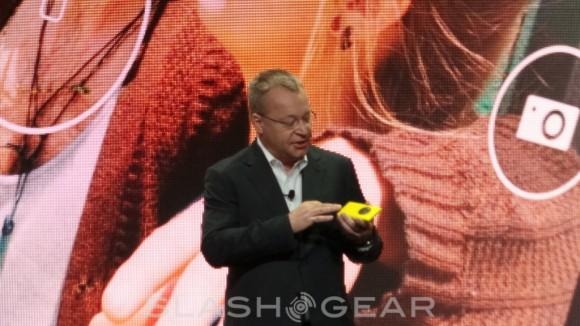 However, unlike on the 808, the Lumia 1020 is able to simultaneously snap both a low- and a full-resolution image. That gives an instantly-sharable 5-megapixel picture at a cellular-data-reasonable resolution, as well as a full image at around 40-megapixels. With the latter, the Lumia 1020 can offer a lossless digital zoom after the still is taken: effectively, a crop is taken out of the full-resolution shot, with no need to artificially enlarge. Up to a 3x lossless digital zoom is supported.
As for video, the Lumia 1020 is capable of recording 720p HD footage while also offering 6x digital lossless zooming; the Windows Phone can also record 1080p Full HD video, though with less of a zooming range. There's stereo audio recording, too, with Nokia promising better bass capture than rival phones thanks to its Rich Recording system.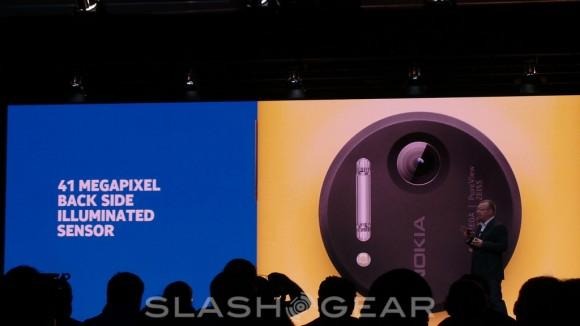 Nokia hasn't forgotten accessories, either, with the $79 Nokia Camera Grip PD-95G. That has an integrated 1,020 mAh battery, extending the Lumia 1020's runtime – estimated at 13.3hrs of talktime, 16 days standby, 6.8hrs of video playback, or 63hrs of music – and a two-stage camera key. It also adds a tripod mount for more professional use. Without the case, the Lumia 1020 is 130.4 x 71.4 x 10.4 mm and 158g.
The Nokia Lumia 1020 will go on sale on July 26, priced at $299.99, as an AT&T exclusive in the US. Preorders – for the black, white, and yellow versions – will be offered from July 16.