Nokia Home Control Center demo: automated potential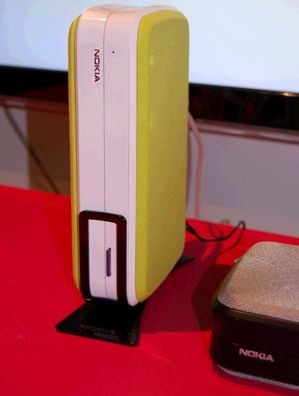 Nokia's Home Control Center was among the gadgets making an appearance at the company's Barcelona expo today, and Electricpig caught a little in-person time with the setup.  Ostensibly a WiFi draft-n router, the Home Control Center box itself is actually a Z-Wave transmitter too, with 6GB of internal storage and intelligence to monitor temperature and other sensors and control heating and lighting accordingly.
Different face-plates and fabric covers are available, if the Center itself isn't to your tastes, but this is probably yet another box to be hidden away in a cupboard or tucked among computer junk.  More importantly, it offers remote control on different Nokia devices – here demonstrated with a Nokia N95 8GB, but you can bet the N97 will get a look-in too – as well as access from any browser.
The demo wasn't anything outlandish – turning on some lights, monitoring temperature and heating, and remotely controlling an alarm system – but if Nokia can bring this in at a reasonable price then they might be able to break the entry-level home automation market.  Expect it on sale in May or June 2009.