Nokia GEM concept clad entirely in touchscreens [Video]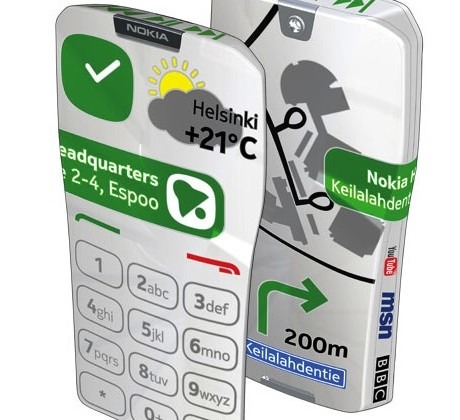 Nokia Research loves its concept phones – the flexible Kinetic concept was one of our favorite things at Nokia World last month – and for the team's 25th anniversary they've produced this, the Nokia GEM. Built around the idea of the entire phone's surface being a touch-sensitive display – front, sides and back – GEM learns from your most common tasks and adapts its default appearance to suit, so if you play games most of the time the phone will usually look like a gamepad.
However, there's also the possibility of resizable QWERTY and numeric keypads, which can be pushed – along with the ongoing IM conversation – around to the back of the phone while you look up details on the front. The flared upper edges work as an app carousel, shuffled around with a thumb and then dragged to the main display to launch them, and everything is resizable.

Because so much of the body is given over to screen, when you run an app – say, triggering the camera with a circle gesture shortcut – the whole phone can adapt its appearance to suit. Alternatively, as in Nokia's non-functional mockup shown in these photos, you could have browser favorites circling the edges and media playback controls on the top.
Nokia is also thinking about potential subsidy alternatives, for instance showing geo-specific adverts on the back of the GEM while you're on a call (and presumably not using the rear display). "It's called GEM because polished precious stones have several sides" project lead Jarkko Saunamäki says. "Also it's a concept which is like a raw gem, but it needs to be polished to become a real product."
Any real product is likely a fair way off in the future, however, given the complex flexible display technology required to clad an entire phone in touchscreens. Still, we wouldn't argue with seeing some of the UI in the GEM implemented in future Nokia handsets.