Nokia Erdos luxury OLED slider tipped for October [Video]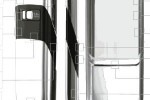 Nokia's high-end 8800-series handsets have been in need of a new poster-model for some time, and according to the latest leaks that might just be the new Erdos.  The Nokia Erdos is a compact slider with a 2.4-inch 320 x 240 OLED display, 3G WCDMA, WiFi, A-GPS and a 5-megapixel camera with Carl Zeiss autofocus optics and dual LED flash.
However what makes the S60 Erdos special is that all of that is packed into a compact, stainless steel casing that's apparently carved from a single block of metal.  The OLED display is covered by a mirror-finish glass panel that's only transparent when the display is active.
Video after the cut
To counter criticisms of previous 8800-series sliders that the keypad has been too far recessed, the Erdos will have trick buttons that raise up to the level of the display when the panel is opened.  There's also 8GB of internal memory (though no expansion slot), a micro-USB connector for data sync and charging, and Bluetooth 2.0 with A2DP.  It's apparently capable of recording 288 x 352 30fps video (or 480 x 640 at 15fps).
The whole thing measures 116.9 x 50.3 x 15 mm, and is apparently set to hit the market potentially as early as October.  No word from Nokia on this – and nothing at Nokia World a few weeks back – so we'll remain sceptical until we see a proper press release or some live photos, but consider our appetites whetted.
[via Engadget]