Nokia's EOS PureView camera has cropped up in the wild again, now getting up close comparison-style with the Lumia 920 and showing just how little has changed from the front of the Windows Phone, at least. The new image, shared by perennial EOS tipster ViziLeaks, shows that the two handsets are largely identical, though the protruding camera bulge of the unannounced phone does tip it at an angle.
Previous leaks have shown the back of the EOS, where the big differences from the Lumia 920 will be found. The extra bulk is to accommodate a "true" PureView sensor, in keeping with the original Nokia 808 PureView, where an excess of pixels are used to produce better quality stills.
In the case of the Nokia EOS, that number is expected to be in the region of 40- to 42-megapixels in total, though the final images will most likely be more akin to 5- or 8-megapixels. If PureView is true to form, multiple clusters of proximate pixels will be used to iron out any glitches in the frame, resulting in a more accurate shot with greater low-light performance.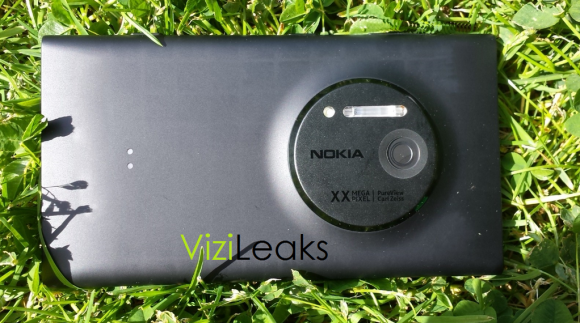 PureView in this manner also opens the door to lossless digital zooming, where sections of the full-resolution frame can be cropped down to 5- or 8-megapixel equivalents. That way, you lose out on the interpolation-style clustering system, but do get an image free of any artificial magnification.
What was always in question was whether Nokia could accommodate a PureView sensor of that kind in a chassis that felt akin to a regular smartphone, rather than ending up as bulky as the 808. Judging by this new comparison image with the Lumia 920, that's something Nokia has pretty much achieved; the phone is a little bulkier, but not ridiculously so.
It's also running the new Glance Screen beta, it seems, which puts a persistent clock on the display when the phone is locked. That debuted on the Lumia 925, though Nokia has said it will eventually be rolled out to all of the company's Windows Phone 8 devices.