Nokia E73 Mode hits T-Mobile USA June 16th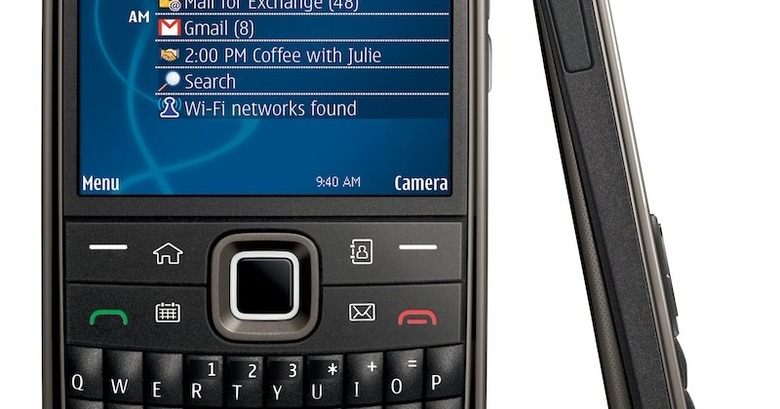 Nokia are continuing their gradual assault on the US market, with another smartphone landing on T-Mobile USA.  This time around it's the Nokia E73 Mode, a full-QWERTY messaging phone running Series 60 with WiFi, 3G and a 5-megapixel camera.  Also preloaded will be Nokia's Ovi Store, for app downloads, and Ovi Maps Navigation with free turn-by-turn directions.
There's also support for VoIP over WiFi, Flash in the browser and a dual-mode homescreen that can be toggled between work and personal displays.  The handset itself looks to be a variant of the Nokia E72.
The Nokia E73 Mode will land on T-Mobile USA from June 16th 2010, priced at $69.99 with a new two-year agreement.  T-Mobile will support carrier billing for purchases made through the Ovi Store, too.
Press Release:
Nokia E73 Mode Smartphone From T-Mobile USA Helps Customers Balance Work and Life

Sleek and Stylish Productivity Solution Provides Access to Thousands of Apps via Ovi Store and Turn-by-Turn Navigation

WHITE PLAINS, New York and BELLEVUE, Washington, June 3, 2010 /PRNewswire-FirstCall/ — Nokia and T-Mobile USA, Inc. today announced the upcoming availability of the Nokia E73 Mode, exclusively for T-Mobile customers, designed to help balance the need to stay connected with one's work and personal life at home or on the go. The Nokia E73 Mode, a Wi-Fi calling enabled QWERTY smartphone operating on T-Mobile's blazing-fast 3G network, includes Nokia's unique Switch Mode feature, which allows consumers to switch between fully customizable home screens that help promote a work-life balance. The Nokia E73 Mode is expected to be available beginning June 16.

"The Nokia E73 Mode brings style and function in an affordable device without compromise," said Mark Slater, vice president, Sales, Nokia. "Working together with T-Mobile, the Nokia E73 Mode enables us to bring our customers a 'Work & Life' solution that allows consumers and businesses to be as productive as possible, while still providing an exceptional consumer value and performance."

The thinnest full QWERTY keyboard smartphone available from T-Mobile, the Nokia E73 Mode, is the perfect device for business customers and consumers who appreciate both form and function. T-Mobile customers also continue to get great mobile coverage with the device's Wi-Fi calling capabilities, which allow consumers to use both cellular and Wi-Fi networks for voice calling. With Mail for Exchange, based on Microsoft Exchange ActiveSync, consumers can receive their corporate e-mail, contacts and calendar pushed directly to their device.

"T-Mobile is committed to providing a variety of devices that serve our customers' needs to stay connected to the central people in their lives including family, friends and even colleagues from the office," said Travis Warren, director, product marketing, T-Mobile USA. "With the Nokia E73 Mode, we're excited to offer a premium device at an attractive price that helps Mom and Dad put work aside and make their family the top priority."

The Nokia E73 Mode comes pre-loaded with services and applications to make life easier, more fun and more efficient. With Ovi Maps, a turn-by-turn navigation solution from Nokia using the device's built-in GPS at no additional cost, consumers can get from point A to B with voice-guided directions – even when walking. Also pre-loaded on the device is the Ovi Store by Nokia, which provides access to thousands of compelling applications and games including "Shazam" and "Call of Duty: Modern Warfare." In addition, Ovi Store enables a simplified purchasing experience for consumers by allowing payment for content billed to their monthly T-Mobile bill or via credit card.

The Nokia E73 Mode includes support for services such as IBM Lotus Traveler, support for and access to Salesforce.com, Bloomberg and more to help business customers bring their office with them while on the go. The Nokia E73 Mode also comes pre-loaded with many business productivity tools allowing employees to take their office with them wherever they may be. With applications such as Ovi Files, QuickOffice, Adobe PDF Manager and ZIP Manager, files can be easily accessed, sent, viewed and edited right from the device, allowing customers to be more productive from nearly anywhere.

The Nokia E73 Mode comes with a full QWERTY keyboard, 5 megapixel camera with flash and autofocus, Wi-Fi for voice and data, long battery life, personal and corporate e-mail access, a full HTML Web browser with support for Adobe Flash, media player and more. With a full portfolio of multimedia functionality combined with Ovi Services, the Nokia E73 Mode provides consumers with everything they need to get the most out of their personal life.

Availability

The Nokia E73 Mode is expected to be available on June 16 through T- Mobile retail stores, select authorized dealers, and online at http://www.t-mobile.com. For more information, please visit http://www.nokiausa.com/mode or http://www.t-mobile.com.

Use of some features or services may incur separate, additional charges and/or require a qualifying data plan. 3G coverage is available in locations nationwide, but may not be available everywhere. For more details on where T-Mobile network coverage is available, please visit http://www.t-mobile.com/coverage.