Nokia E7: 4-inch QWERTY smartphone outed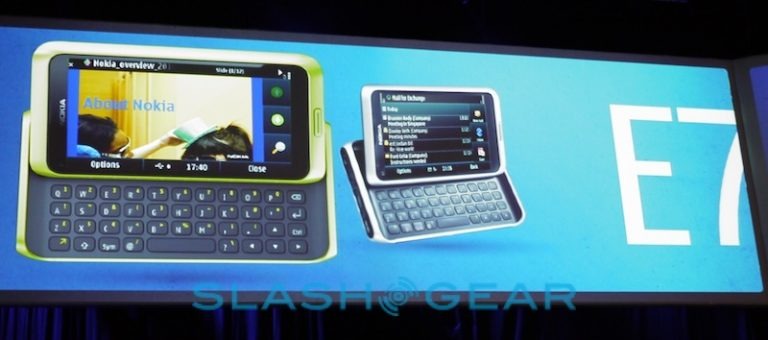 Nokia's third new smartphone for Nokia World 2010 is the Nokia E7, the spiritual successor to the original Nokia 9000 Communicator.  It has a 4-inch capacitive touchscreen display, a slide-out full QWERTY keyboard and a slimline stainless steel case.  And, as Anssi Vanjoki insisted at several points during his keynote, "it's BIG."
There's full Exchange integration, Office document viewers and all the usual Ovi applications.  That means turn-by-turn directions in Ovi Maps, Ovi Store downloads and more.  Vanjoki calls it the best business smartphone to date; we'll have to wait for some hands-on time to find out if that's true.
Update: Price will be €495 ($636) when it arrives on the market in Q4 2010.  Specs are impressive, too: five-band WCDMA (850/900/1700/1900/2100) and quadband GSM/EDGE, an AMOLED display with polarizing layer, 16GB of onboard storage, FM radio, WiFi b/g/n, Bluetooth 3.0, GPS/A-GPS, HDMI, USB Host support, HD 720p video recording and more.  Full specs in the gallery below.
Press Release:
Nokia announces powerful family of smartphones and Ovi services at Nokia World showcase; vision of location-based future brought to life
September 14, 2010

London, UK – At Nokia World, the destination for people passionate about mobility, Nokia today announced a family of smartphones powered by the all new Symbian platform which brings significant enhancements in speed and ease of use. The new devices, which are tightly integrated with enhanced Ovi services and apps, reinforce Nokia's vision of a mobile industry that is increasingly being defined by socially connected, location-based devices and experiences.

Highlights include:

- Three new smartphones, Nokia E7, Nokia C7 and Nokia C6, which join the previously announced Nokia N8 to form a family of Symbian products. – The latest version of the Symbian platform brings more than 250 new features and improvements and retains the familiarity enjoyed by millions of smartphone users worldwide;

- Showcase of the Nokia N8, the ultimate entertainment smartphone and world's best cameraphone;

- Availability of a richer Ovi Store experience – starting with the Nokia N8 – that includes a friendlier look and feel, and more popular and unique apps and games;

- The latest beta release of free Ovi Maps with new pedestrian and motorist features.

"Today our fight back to smartphone leadership shifts into high gear," said Niklas Savander, Executive Vice President, Markets, Nokia. "Despite new competition, Symbian remains the most widely used smartphone platform in the world. Our new family of smartphones introduced today feature the all-new Symbian OS, rewritten to be faster, easier to use, more efficient and more developer friendly." Savander also commented on the high level of anticipation for the Nokia N8. "Based on the level of consumer interest and the highest online pre-orders in Nokia history, we expect big things from the Nokia N8."

A smartphone for everyone.

In addition to the Nokia N8, the new family of faster, more intuitive Symbian smartphones includes:

- Nokia E7 – the ultimate business smartphone. With Microsoft Exchange ActiveSync on board, the Nokia E7 provides direct, real-time and secure access to corporate email inboxes and other personal applications. Equipped with a 4-inch touchscreen display featuring Nokia ClearBlack technology for improved outdoor visibility and a full keyboard, business users will find the Nokia E7 is the perfect shape and size to work on documents, review spreadsheets, or read and edit slides. For corporate peace of mind, a combination of business grade security solutions is available. Estimated retail price is EUR 495, excluding taxes and subsidies.

Nokia E7 image

- Nokia C7 – beautifully crafted, sleek social networking smartphone. Get live updates from social networks such as Facebook and Twitter and keep track of new email from your Yahoo! or Gmail accounts directly on the homescreen. The Nokia C7 features a 3.5-inch AMOLED display and a stunning combination of stainless steel, glass and soft edges. Estimated retail price is EUR 335, excluding taxes and subsidies.

Nokia C7 image

- Nokia C6 – the small and stylish smartphone. Sporting a 3.2-inch AMOLED display with full touch capabilities and Nokia ClearBlack technology for improved outdoor visibility, the latest Nokia C6 (C6-01) features the best of social networking and mobile entertainment in a stainless steel and glass design. Stay connected to email, access millions of tracks through Ovi Music, and download apps and games from the Ovi Store. Estimated retail price is EUR 260, excluding taxes and subsidies.

Nokia C6 image

As a smartphone family, the Nokia N8, Nokia E7, Nokia C7, Nokia C6 share several similarities. All are built on the new version of Symbian, the world's most popular smartphone platform. It strikes a balance of innovation and intuition offering a variety of improvements and features such as support for multiple homescreens, visual multitasking, gesture-based interactions and a noticeable reduction in prompts — all while presenting a familiarity that means millions of people can pick up one of Nokia's new smartphones and instantly know how to use it. People will also discover free Ovi Maps, access to Ovi Store, messaging, social networking and other experiences that come standard across all of these smartphones.

The Nokia E7, Nokia C7 and Nokia C6 are all expected to begin shipping before the end of the year.