Nokia dual-SIM C1 and C2 phones debut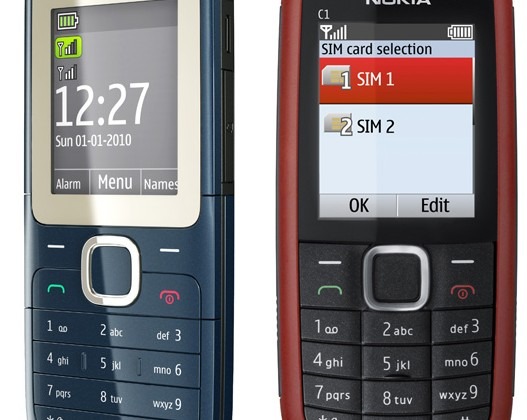 Dual-SIM support seems to be one of those things Nokia keeps getting asked for, but we have to turn to copycats like Nokla to provide.  The Finns have obviously had enough, and have come through on their promise to pack two slots in a single handset.  Don't expect anything earth-shattering, at least from a smartphone-lovers perspective; the new dual-SIM C1 (C1-00) and C2 handsets are budget phones intended for developing markets.  The Series 30 C1 allows users to flip between SIMs with a single key-press, while the Series 40 C2 keeps both active simultaneously.
Meanwhile there are a few other basic devices, the C1-01 and C1-02, which lack the dual-SIM slots but have even cheaper prices.  All of the phones bar the C1 have Bluetooth and memory card slots; the C2 has a VGA camera and GPRS, and its second SIM is hot-swappable.  They'll arrive in Q4, priced from €30 ($37), though there's no definitive list of launch countries yet.