Nokia D1C Android Device Spied On Geekbench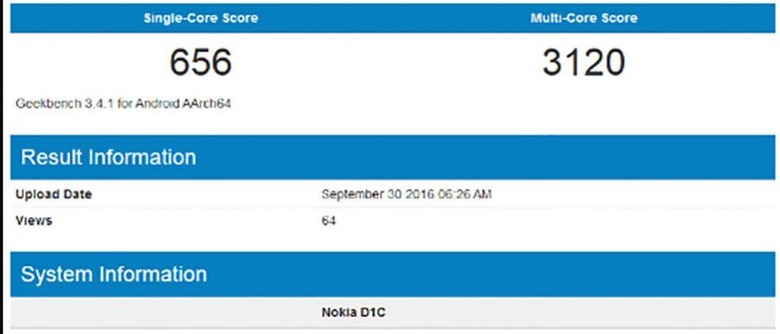 A new Nokia smartphone has been spied after it made several passes through the Geekbench benchmark suite. The Nokia device is called the D1C and while we don't know much about the smartphone, we do have a few specifications thanks to Geekbench. The smartphone has a Snapdragon 430 SoC with an octa-core 1.4GHz processor.
That processor is paired with an Adreno 505 GPU and 3 GB of RAM. The OS for the smartphone is Android 7.0. The specs of the device appear to be a low to mid-range device. One key thing about this device is that it actually wears the Nokia name. When Microsoft gobbled up Nokia Devices and Services back in April 2014, a non-compete clause was in effect until now preventing Nokia from making a smart device with its name on it.
Word is that we could see as many as four new Android phones and tablets from Nokia during the final quarter of 2016. Two of the rumored smartphones are tipped to use the Snapdragon 820 chipset inside. Whoever was testing the Nokia D1C smartphone ran the device through Geekbench five times. The smartphone had rather low scores with the highest single core being 682 and the highest multi-core score being 3229.
Microsoft appears to have given up on using the Nokia name and licensed the brand to HMD who will reportedly make Nokia branded devices. Other feature phone assets owned by Microsoft were sold off to FIH Mobile Limited, a Foxconn subsidiary. HMD and FIH will be making Nokia branded devices for the next decade. The deal will see royalties paid, but no financial investment made in either company by Nokia/Microsoft. Nokia was tops in the early mobile phone industry for a long time but was unable to compete when the smartphone era dawned.
SOURCE: Phonearena