Nokia Contacts on Ovi fails: three weeks data lost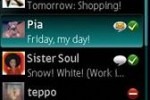 Nokia's Contacts on Ovi database has failed, leaving users without any of the updated information they made since January 23rd.  The failure, which was brought about after cooling in the hosting center broke down, proved irretrievable, and as such the Contacts team was forced to restore it from the most recent backup from an earlier center, with data approximately three weeks old.  As a result, any profile details, images or friendships set up since that date are no longer available.
The Contacts on Ovi system is now up and running again, with users able to re-invite friends to join and hopefully upload any lost photos and contacts from their own local storage.  As a beta service, Nokia had obviously made no promises about the stability of the system; however given how many services – Google being a particular culprit here – remain in beta for months or even years, it's unsurprising that users are quick to overlook potential flaws and not make alternative backup arrangements.
Nokia seem pessimistic about recovering any of the missing data, and are promising to re-examine their systems (hopefully including their backup policies!) in the hope of providing better service next time.  Given how semi-frequently data losses seem to happen, it's not like the Finns are the only ones ever to have made this mistake.