Nokia CEO Stephen Elop at MWC 2011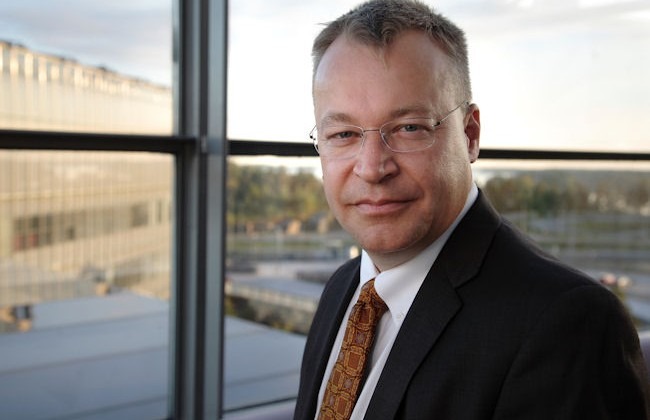 All eyes have been on Nokia over the past few days, and SlashGear has just finished a sit-down session with CEO Stephen Elop to talk about the decision process the company has made over the past few months in switching to Windows Phone, the impact it sees on developers, users and other OEMs, and what the shift has done to the company's relationship with MeeGo. It's obviously an emotive topic; we've seen plenty of feedback from Nokia followers unhappy with the move, as well as Android fans who would have preferred to see Nokia hardware running Google's OS. Check out our interview report after the cut.
Nokia's executives and board may be convinced that Windows Phone and Microsoft is the best way forward, but a lot of the company's fanbase isn't. Asked whether Nokia was potentially behind OEMs with an established history of producing hardware for other company's OSes, or even worse whether Nokia faced losing control over its own destiny, Elop denied that the relationship with Microsoft is either one thing or the other. It's a "unique relationship" he argued, "with joint assets, services and joint responsibility for building an ecosystem ... we placed a big bet on them, they placed a big bet on us." Still, though, he admitted it was a considerably change for the company. "This is a shift for Nokia; the elements over which we do or do not have absolute control."
Elop made headlines by arguing that Android was Nokia's primary competitor, not other Windows Phone OEMs, and the outspoken CEO stands by that assertion. "Even if a company today makes money with Android, the risk of commoditization is high, margins come under increasing pressure" he explained.
"In joining the Windows Phone ecosystem, looking at the economics, there are margins available ... if we create a three horse race, the economic construct of the industry will be better for handset manufacturers and for operators" Stephen Elop, CEO, Nokia
Despite arguments that Nokia's privileged relationship with Microsoft might leave other OEMs at a disadvantage, Elop insists that the company's involvement will only improve the platform's potential as a whole. "It's an important point, our most important competitor is Android and Google" he told us, "as we entered into discussions with Microsoft, the question was what can we do to strengthen the ecosystem. Success will attract more competition; if we're more successful with the platform then internal competition within Windows Phone becomes important."
That added developmental investment in Windows Phone will only partially benefit OEMs like HTC, Samsung and LG, however. Nokia will keep some "exclusive differentiators" and make some generally available; so, it could push the photography side of its devices, aiming to make Nokia Windows Phones the de-facto choice for those focused on images. Elop also argued that the current range of skins – like HTC's Sense, Samsung's TouchWiz and others – aren't really true differentiation, and that they're not deep enough. Instead, Nokia will be looking to leverage hardware and services, "experiences we can build that are differentiated within the framework of Windows Phone." That could include location-based services, local-based ads and augmented reality.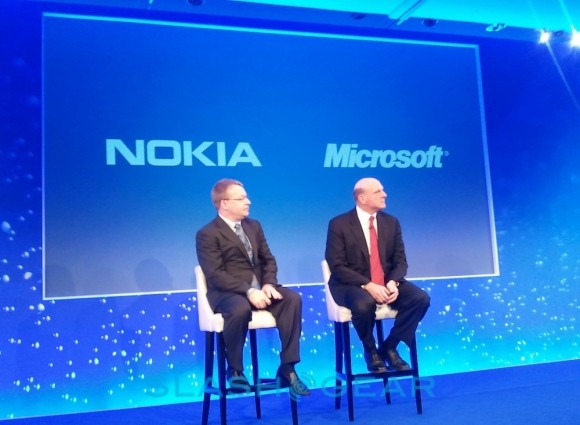 So, if Symbian is being phased out, why should anybody continue buying handsets? "We are in the environment of new devices every month" Elop pointed out, "but the rest of the world doesn't work like that." Instead, he argued, people choose a device based on their needs at the time. "If you go into a store and listen to a conversation" he suggested, "it's about the quality of the hardware, user experience, quality of the brand – that matters a great deal in the purchase decision."
Still, even if the migration away from Symbian won't change overnight, Nokia is looking to pave the way for a shift of users from the old platform to Windows Phone. "We have to do a good job of managing that transition" Elop agreed, suggesting that Nokia is investing in efforts to make sure users can bring their data and other aspects of their current mobile experience to the Microsoft OS.
The path for developers perhaps won't be so clear. Elop defended the decision not to port Qt to Windows Phone, suggesting that "if we create an alternative development platform, we risk an environment of mixed development." It's "architecturally possible but creates challenges" he argued, "we're going to spend a tonne of money attracting developers, are we going to promote two platforms?" That would create forking from a messaging perspective and from a mindshare perspective, and it would lead to questions at every Windows Phone OS update as to whether Qt developers were being left one step behind.
Still, the question Elop suggests we should be asking is when Qt will be put onto mobile phones, not smartphones. "The vast volume of phones aren't smartphones, but mobile phones" he says, "renewed innovation actually means whether you are putting Qt down into mobile phones." Still, Nokia hasn't made that decision yet, but MeeGo will be Qt-enabled – even though there's only one device on the roadmap for 2011 – and there will be a quarter of a billion Qt-compatible devices in the market in the months and years ahead, so he disagrees that the platform is a closed avenue for developers. Whether coders with limited resources will agree that Qt has the legs ahead of it to warrant investment of time and energy remains to be seen, however.
As for conspiracy theories that Elop's past at Microsoft saw him injected into Nokia to pave the way for Windows Phone's adoption, the CEO denied there was any conflict of interest. "We went through a process of evaluating options – Symbian and MeeGo, Android or Windows Phone – and we made sure we had the whole executive team involved in that process" he told us. "When they had to make a recommendation to the board, the team was unanimous – after months of work, assessing internal details, our own problems within Nokia – and the whole management team presented to the board" Elop said, "they could all interact, then the board made the final decision on Thursday night."
The Nokia board then made the final checks and balances, and came to a decision the night before Elop's presentation on Friday morning in London. With it all so last minute – and with Steve Ballmer, Microsoft CEO, actually making the trip to the UK for the event – we did ask whether Google had Andy Rubin on standby, had the board opted for Android instead. Elop wouldn't tell us, quoting confidentiality agreements, but he did point to the "tweetbomb" Rubin dropped earlier in the week as a suggestion that it "might have correlated with a sense that they were not in the winning seat."
Finally, Elop had some comments on the reaction of the Nokia faithful, both employees and those users still devoted to the company and surprised by its decision. "I've spent four and a half months looking at the pros and cons, but I've also had an emotional journey" he explained, "employees have only had three days." There's equal focus being placed on making sure Microsoft and Nokia engineers can work together well; "you can't build products unless you have a group of people who can sit in a room and love each other" Elop said. As for how the Seattle-based Microsoft team and the Finland-based Nokia team found their common interests, well, even with a Canadian at the helm some old company traditions die hard: the two teams met in the middle, in Reykjavik, and climbed into hot baths together.