Nokia C5 confirmed; brings new naming scheme with it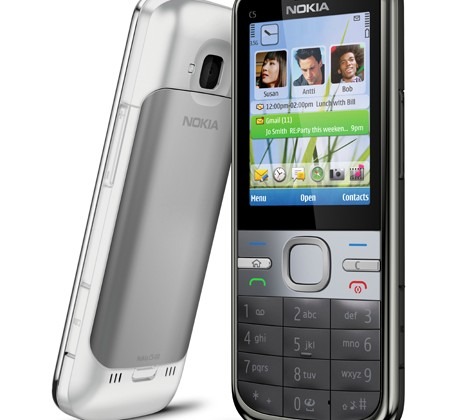 Nokia have announced their latest "smartphone", the Nokia C5, and while the S60 3rd edition handset isn't exactly the most interesting in the company's range it does mark the introduction of a new naming convention for them.  The C5 has a 2.2-inch display, 3.2-megapixel camera, 3G, Ovi Maps (with free walk and drive directions) and Facebook integration with the address book, and will be the first of the C-series of devices.
It also has a microSD card slot – 2GB in the box and up to 16GB supported – together with an FM radio, stereo speaker and 3.5mm AV adapter.  The Nokia C5 is expected to make its debut in Europe, Eurasia, SEAP, China and MEA come Q2 2010, priced at €135 ($183).
As for the new naming scheme, that seems to echo what we've seen leaked previously.  Nokia have confirmed there are now four segments of device – Nokia Cseries, Xseries, Eseries and Nseries – paired with model numbers that indicate (rising from 1 through to 9) what sort of functionality and pricing you can expect.  Cseries is the core range, Eseries targets business, Xseries prioritizes social entertainment and Nseries are the flagship phones; we're still holding out hope for the multitouch-enabled N8-00 tipped for a summer launch.