Nokia Browser v2.0 coaxes Next Billion with the cloud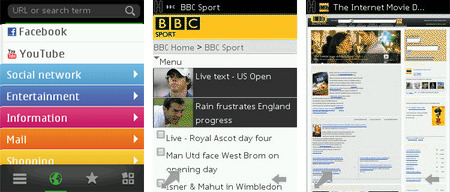 Nokia has redoubled its efforts to win back the hearts and minds (and wallets) of the Next Billion, with the release of its new Nokia Browser for S40 complete with cloud-crunched data streamlining. The Nokia Browser 2.0 promises a cut in data transfers of up to 90-percent, thanks to a new cloud layer which compresses and caches sites so as to present as minor a footprint on your data bundle as possible.
The upshot is less money spent on surfing and less time waiting for pages to load. Nokia has also updated the UI, bringing search to the fore along with social networking integration for sharing, and there's easier access to current popular content.
Meanwhile, background downloads of video, audio and images are supported, allowing other web browsing to take place in the foreground or, indeed, for their loading to be paused and resumed later when there's a faster connection.
All Series 40 handsets will support the new browser, whether touchscreen-based, non-touch or packing a QWERTY keyboard; that includes the newest Asha line-up. Nokia will also preload it on some current and all new S40 devices; existing owners, or those whose new phone doesn't come running Nokia Browser 2.0 out of the box, will get it as an OTA update.
The new browser is available in 87 languages in over 200 countries and territories, part of Nokia's attempt to reinvigorate demand in the developing markets it had anticipated underwriting its Windows Phone migration. That hasn't happened so far, Symbian sales diving at a faster than expected rate.
If you've got a S40 device, you can download the new Nokia Browser here.