Nokia Booklet 3G second-gen orders being discussed?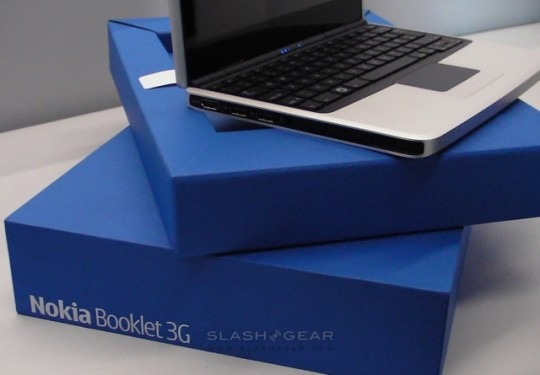 The first examples of Nokia's Booklet 3G netbook are yet to drop into buyers' hands, but according to leaks fizzing out of Taiwan the Finns are already discussing orders for their second-gen model.  Notorious rumor-monger Economic Daily News has suggested that a new Booklet 3G with updated specifications is expected to be released in 2010, a statement that is, frankly, stating the obvious.  However, reading between the lines we'd expect any updated netbook from Nokia to take advantage of Intel's upcoming Pine Trail processors, such as the Atom N450, and we do know a little about that CPU's release schedule.
Those processors are expected to drop on January 3rd 2010, according to the latest batch of rumors, which might suggest that the Booklet 3G refresh could take place early in Q1 next year.  The N450 couples the CPU and GPU, together with the memory controller, onto the same die, and offers a performance increase and a TDP drop over the current generation of N-series chips.
The existing Booklet 3G uses Intel's Z530 1.6GHz processor, picked because it's more efficient than the N270 and allows for longer battery life despite the surfeit of wireless connectivity (the netbook has WiFi, Bluetooth, 3G and GPS).  The EDN tip Compal as leading the pack for manufacturing rights to the next-gen Booklet; the company already produce the existing model.