Nokia Booklet 3G review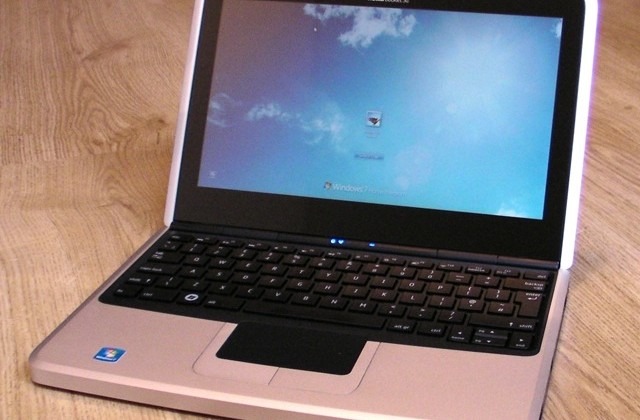 While many scoffed at the idea of Nokia building a netbook, the idea does have its share of merits. After all, the Finnish company knows a few things about eking out runtimes from compact batteries, and with netbooks being perhaps the most likely of computing devices to be in search of mobile connectivity, stuffing them with the sort of wireless access your high-end Nokia boasts certainly makes sense. Throw in eye-catching design and you're onto a winner, right? Unfortunately, we've found the Nokia Booklet 3G falls short in other areas; check out the full SlashGear review after the cut.
Physically, the Booklet 3G is bordering on Apple-levels of attractiveness. The brushed aluminum chassis is solid and the plastic side-inserts feel high quality. We're still not convinced by the plastic top plate on the outside of the lid, and would prefer plain metal, but that's a minor aesthetic issue with a generally very good looking netbook. As you can see in our unboxing video, ports include power, one USB 2.0, SIM and SD along the right-hand side, together with power and a speaker, and HDMI, two USB 2.0 and a headset socket along the left-hand side, together with the second speaker. Underneath there's the large removable battery and four rubber feet, with Nokia showing admirable restraint in their labelling.
Nokia Booklet 3G unboxing video:
[vms 094e0b5cb1b01d712f70]
Open it up, and there's a 10.1-inch 1,280 x 720 LED-backlit display behind a glass panel. There's no anti-glare coating to the glass, but it does have – on our review unit at least – a slightly fuzzy finish that's absent on other glass-fronted laptop displays. Given the size of the lid and the aspect ratio of the LCD – which Nokia tell us is specially made for them – the panel does look a little dwarfed by the black surround; there's a little too much blank space underneath it for our liking.
Above the display is a 1.3-megapixel webcam, while below it is a moderately cramped keyboard. The chiclet keys aren't the most comfortable on a netbook that we've tried, but are still usable for pecking out emails and editing documents. The trackpad feels unnecessarily cramped, however, and the mouse buttons feel cheap and overly clicky. Integrated into the screen hinge is a row of status LEDs indicating – left to right – Bluetooth, WiFi and 3G activity, together with sleep, battery and mains-power status. Nokia have also been pleasantly lavish with their shortcut buttons, with the F-keys doubling as music track controls, volume, brightness and wireless connectivity toggles.
OS is Windows 7 – either Starter or Home Premium – and Nokia have tried to bring a little cellphone magic across too. The Ovi Suite app download store and Social Hub networking app are both available (though you need to download them separately) while tapping the power button while the Booklet 3G is powered on brings up a status window showing battery level, performance mode and shortcuts to standby, restart and power-down. An accelerometer is also embedded inside, though the most we've observed it doing is throwing up shake-warnings and parking the hard-drive.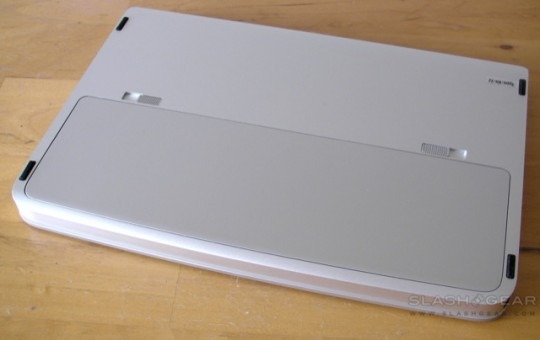 You can't knock the Booklet 3G's connectivity. There's the usual WiFi b/g/n together with Bluetooth 2.1+EDR, as well as GPS/A-GPS and a standard 3G modem. This last element is key to Nokia's sales strategy, as it means they can tap into carrier subsidies; without it the Booklet 3G is around $600. Opt for a data-plan commitment, however, and in the US you can have the netbook for more like $300, assuming you're content paying around $60 to AT&T every month for two years for their wireless data package. On the upside you can hot-swap the SIM (i.e. take it out or reinsert it without shutting down the netbook) between phones and other devices.
It's one of the reasons the Booklet 3G is reasonably contentious, and another is Nokia's choice of processor. Since they want to promise all-day battery life, Nokia have had to choose an especially frugal CPU, and so have picked Intel's Atom Z530. While it runs at the same 1.6GHz as the more common Atom N270 it does promise lower power draw, hence the company claiming up to 12 hours use from the 56.8Wh battery. Unfortunately Nokia have paired it with just 1GB of DDR2 memory and a meagre 120GB 4,200rpm hard-drive, both of which fall well short of what we'd like to see on even an entry-level netbook.
It adds up to particularly uninspiring performance, and perhaps the biggest disappointment of the Booklet 3G. Out of the box, running only the 30-day trial of F-Secure Internet Security 2010, Internet Explorer 8 (which is preloaded with Windows 7) is sluggish and frustrating. Navigating even a few tabs is slow, and moving between apps in general is ponderous. Simple things – like adjusting the screen brightness with the shortcut keys – see the backlight respond and then, seconds later, the on-screen meter belatedly pop up. Trying to copy music across from another system highlighted the hard-drive's woeful lack of speed, while 720p video could – bitrate depending – prove juddery. Considering Nokia bill the Booklet 3G's display as ideal for 720p HD content, that's a significant issue. We plugged in a 1080p HDTV via the HDMI connection and were impressed to see the netbook could support (with its own display shut off) Full HD; however 1080p video was a different matter, being pretty much unwatchable.
GeekBench faired no better, with the Nokia Booklet 3G's raw benchmarking being less than impressive. The netbook managed 773 points overall, over 100 points behind Atom N270 based year-old netbooks such as the ASUS Eee PC 1000H or the MSI Wind U100.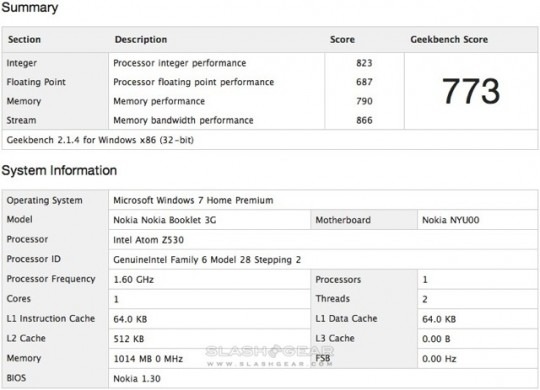 As for battery life, that's the Booklet 3G's saving grace. Unsurprisingly we never saw Nokia's 12 hours, but with WiFi switched on and the display at medium – and comfortable – brightness we saw around 8 to 8.5 hours use before needing to reach for the compact AC adapter. Media playback (with wireless turned off) varied depending on how much CPU crunching was required (there's no discrete GPU); watch solely lightweight clips and you might see closer to 10 hours. However Flash video – even standard resolution YouTube clips – was tardy to load and chugged through power.
The subset of users to whom the Nokia Booklet 3G is suited is relatively narrow, then. While the wireless connectivity is certainly there in spades, the actual browsing experience is slower than on some smartphones we've tested. Meanwhile video playback is acceptable only with certain clips, which is the sort of suck-it-and-see limiting factor that makes low-power devices particularly frustrating. If you do little more than browse with one or two tabs open at most and generally need your notebook to churn out text and emails then the Booklet 3G certainly has the battery life for you; however then it's the keyboard that rankles.
We want to love the Booklet 3G, if only because it looks so good. Problem is, once you turn it on you're stuck with performance that even the first-gen netbooks generally exceeded, and if that's frustrating when the Nokia is box-fresh then imagine how you'll feel when you're into the second year of your data contract. The downside to that clean, unspoilt chassis is that doing some DIY upgrading is almost certain to invalidate your warranty; no core part of the Booklet 3G is intended to be user-accessible. It's tough to imagine a user who would be satisfied for the next 24 months with the Booklet 3G's abilities, and we're left hoping Nokia sell just enough of them to green-light the next-gen model that will hopefully up the performance.